What Should You Do After a Motorcycle Accident in Chesapeake, Virginia?
After any motor vehicle accidents, including car accidents, truck accidents, and motorcycle crashes, you should first call 911 to get first responders on the scene. This helps ensure that all accident victims, including you, get medical attention, and allows you to file a police report, which will be important in building your case later.
Next, gather all the evidence you can. Take photos, draw diagrams, and make notes. Swap information with the other motorists involved and collect contact info from witnesses. Do not apologize for anything at any time, including at the scene or later.
When you get home, start your injury claim by filing a report to your insurance company, but stick to the facts and do not editorialize. Finally, contact the law offices of Montagna Law at 757-622-8100 or through our online contact form for a free consultation, legal advice, and legal representation today.
In addition to Chesapeake, we have represented clients in Norfolk, Portsmouth, Virginia Beach, and elsewhere across Hampton Roads. Do not go at it alone, and do not go with some big faceless law firm. Our law office cares deeply for every client who comes through our door.
What Type of Road is Safest for Motorcyclists in Chesapeake, Virginia?
According to the Virginia Department of Motor Vehicles, in 2021, the safest place for motorcyclists was on the highway as opposed to neighborhood roads and streets. Make no mistake, however; bikers are always at risk from reckless drivers on Virginia roads.
What Are Some Common Causes of Motorcycle Accidents in Chesapeake, Virginia?
Whether you are on the streets in downtown Chesapeake or commuting along Hampton roads just 35 minutes away, many things can cause accidents. Most come down to drivers behaving recklessly, and many accidents cause serious injuries or even death. Some of the most common causes of accidents that personal injury attorneys see include lane changing, distracted driving, poor road conditions, bad weather, rear-end collisions, and driving under the influence.
Lane Changing
Drivers must be extra careful when bikers are around. Motorcycles are harder to see than cars or trucks, and drivers who fail to pay attention when changing lanes cause many motorcycle crashes every year.
Distracted Driving
A great many motorcycle accident cases are the result of distracted drivers. While we usually think of distracted driving as cell phone use, it can also include reading, checking yourself in a vanity mirror, fiddling with the radio, or even eating.
Poor Road Conditions
Drivers are responsible for adjusting their driving habits when road conditions are bad. Loose gravel, oil slicks and spills, potholes, and rough pavement are all conditions requiring drivers to slow down and be careful. If they fail to do so and an accident results, they can be held liable.
Bad Weather
Be it rain, snow, ice, or even high heat in the summer, bad weather can affect road pavement and requires drivers to behave accordingly. Drivers who recklessly fail to adapt to weather conditions can be held accountable for resulting crashes.
Rear-End Accidents
Motorists have a responsibility to leave enough space between their vehicles and those in front so that they can stop in emergencies. Though there are exceptions, rear-end accidents are often the fault of the driver behind.
Driving Under the Influence (DUI)
DUI is one of the most devastating and common causes of accidents nationwide. Many DUI-related personal injury cases also involve wrongful death.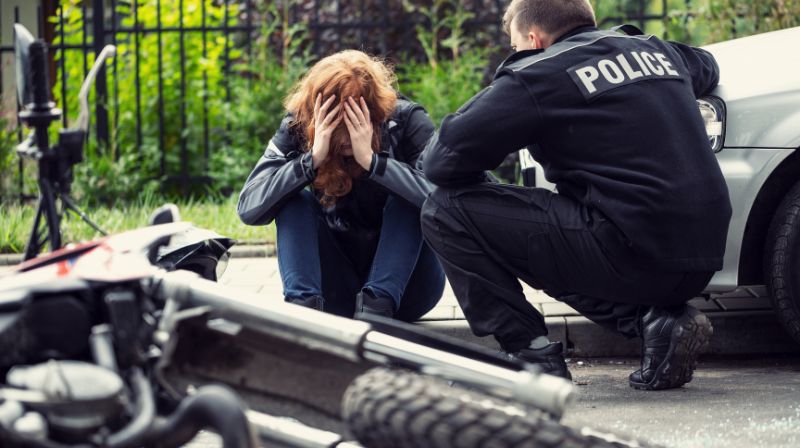 What Types of Damages Are Recoverable After a Motorcycle Accident in Chesapeake, Virginia?
Motorcycle accidents can result in a wide range of injuries, from broken bones to traumatic brain injury and beyond. The two major types of damages recoverable after a motorcycle accident include economic damages that are easy to value and noneconomic damages that are more subjective. Qualified motorcycle accident lawyers can help you value your personal injury case.
Pain and Suffering
Pain and suffering is a blanket term for all the noneconomic damages you may suffer in your personal injury case. Insurance companies will always try to undervalue these injuries, but a qualified motorcycle accident personal injury law firm can help you fight back and put a proper value on your physical pain, loss of enjoyment of life, loss of comfort and support, emotional trauma, PTSD, loss of consortium, and other invisible injuries.
Medical Expenses
Medical expenses cover all of your medical bills, from doctor's visits to procedures, medication, and even transportation to and from the doctor's office. They can also include the need for in-home care.
Lost Wages
Lost wages mean the money you are not currently earning due to being out of work. If your injury is long-term, it can also include the wages you would have earned had you been able to work and the possible loss of retirement benefits.
Wrongful Death
A wrongful death case happens when you lose a loved one to someone else's negligence. In addition to the above types of damage, you may also be able to collect funeral and burial expenses.
How Does Contributory Negligence Affect My Claim?
Virginia's contributory negligence laws are exceptionally strict. They state that if anyone involved in an accident is even 1% responsible, they can be barred from collecting any compensation whatsoever. You can be assured that the insurance company will attempt to blame you at least partly for the accident to get out of paying your claim.
This law applies only to motor vehicle accidents, not other types of personal injury law, such as workers' compensation, medical malpractice, or slip and fall cases.
That is why it is so important to have a personal injury law firm like Montagna Law in your corner. Our personal injury lawyers have years of experience building ironclad cases for our clients, and we will fight for you every step of the way.
How Long Does It Take to Settle a Motorcycle Accident Claim in Chesapeake, Virginia?
Understandably, you want to resolve your case as quickly as possible. After all, you were just interested in a relaxing day out, perhaps to get out for some fishing at Northwest River Park, when someone struck you and changed your life forever. Unfortunately, motorcycle accident cases can take some time to resolve.
There is no specific average length of time for these cases, as they are all unique, but be assured that your personal injury lawyer at Montagna Law has experience in practice areas of motor vehicle accidents. We will fight to get you fair compensation and resolve your case as quickly as we can.
What Are the Benefits of Hiring a Chesapeake Motorcycle Accident Attorney?
An experienced motorcycle accident attorney at Montagna Law gives you the best possible chance at significant compensation for your injury. In fact, those with lawyers, on average, receive more than three times the settlement as those who do not have an attorney. We can help you avoid significant errors like making incriminating statements to the insurance adjuster or missing the statute of limitations. We can build a rock-solid case so contributory negligence does not become an issue. We will remind everyone what happened and who the victim is and fight for you every step of the way.
Do Not Let a Negligent Driver Get Away With Cutting Your Ride Short
Montagna Law represents clients all across Hampton Roads, Virginia, from Virginia Beach to Norfolk, Newport News, Portsmouth, Suffolk, and all across the Chesapeake area. We will treat you like a human being and a valued person, not a number. Contact us today at 757-622-8100 or fill out our online form for a consultation. There is no disclaimer, and you owe no legal fees if we do not win. Are you ready to secure your rightful compensation?