Motorcycle Accident Lawyer Serving Norfolk
MONTAGNA KLEIN CAMDEN LLP
EXPERTS IN MOTORCYCLE ACCIDENT INJURIES IN NORFOLK, VA
MILLIONS OF DOLLARS RECOVERED IN PERSONAL INJURY SETTLEMENTS AND JURY TRIALS
YOUR "GO TO LAWYERS" FOR SERIOUS MOTORCYCLE ACCIDENTS IN NORFOLK, VA
OVER 50 FIVE STAR GOOGLE REVIEWS
THOUSANDS OF SATISFIED CLIENTS
125+ YEARS OF COMBINED LEGAL EXPERIENCE

CONVENIENTLY LOCATED AT 425 MONTICELLO  AVENUE, NORFOLK, VA 23510
Call 757-622-8100 or use our online contact form to discuss your motorcycle accident case with a lawyer.
ALTHOUGH REULTS IN ONE CASE DO NOT GUARANTEE RESULTS IN OTHER CASES AND NO TWO CASES ARE THE SAME, SOME OF THE RECENT GREAT RESULTS AT MONTAGNA LAW ARE THE FOLLOWING:
$750,000.00 SETTLEMENT
$1,000,000.00 SETTLEMENT
$995,000.00 SETTLEMENT
$1,900,000.00 SETTLEMENT
$995,000.00 SETTLEMENT
$500,000.00 SETTLEMENT
With Montagna Klein Camden LLP, you can be confident that you have experienced, professional lawyers for your motorcycle accident in Norfolk, VA.  The "Go To"  Norfolk motorcycle accident lawyers at Montagna Law will fight to protect you and will maximize your recovery if you are injured as a result of the negligence of others. Jon Montagna and Lance Jackson know your case is important to you, and they will battle for you in court.
At Montagna Law, our lawyers provide honest and straightforward advice.  When you are looking for Norfolk personal injury lawyers after a motorcycle accident, please be assured that our firm takes a client-first approach.  As Norfolk auto accident lawyers, we are experts.
OVER 125 YEARS OF COMBINED LEGAL EXPERIENCE AS MOTORCYCLE ACCIDENT LAWYERS IN NORFOLK, VA
The motorcycle accident lawyers at Montagna Klein Camden LLP have over 125 years of combined legal experience. Our lawyers will fight to get you your money if you are injured as a result of the negligence of others in a motorcycle accident in Norfolk, VA.  When you are looking for motorcycle accident lawyers in Norfolk, VA, call us today at 757-622-8100.  We will maximize your recovery through settlement or a jury trial.
The Norfolk, VA motorcycle accident lawyers at Montagna Law are knowledgeable about traumatic brain injuries, broken bones, sprains, and scarring.  Chuck Montagna, Jon Montagna, Anthony L. Montagna, III, and Lance Jackson are motorcycle accident experts.  We have recovered millions of dollars for our clients injured in accidents.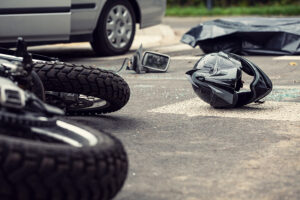 COMMITMENT TO CLIENTS AS NORFOLK MOTORCYCLE ACCCIDENT LAWYERS:
"With over 125 years of combined legal experience, the Norfolk, VA motorcycle accidents lawyers at Montagna Klein Camden LLP know that each case is different, and we provide personalized attention for each client," says Jon Montagna.  "We are committed to providing our Norfolk, VA motorcycle accident clients with zealous and skillful representation and promise to fight the insurance companies to maximize your recovery.  We know that your Norfolk, VA personal injury case is a serious concern  to you, and we treat every client like we would like our  family treated by colleagues.  We are here to guide you through the complexities of your Norfolk, VA motorcycle accident case and to provide you with simple, straightforward  answers to your questions."
THREE REASONS TO SELECT MONTAGNA KLEIN CAMDEN LLP  AS YOUR  MOTORCYCLE ACCIDENT LAWYERS FOR PERSONAL INJURIES IN NORFOLK, VA:
When you consider hiring an attorney Norfolk, VA, know that Montagna Klein Camden LLP is here to help you. The automobile accident attorneys at Montagna Klein Camden LLP are uniquely qualified to handle your simplest or most complex  personal injury legal matter. The firm will fight the insurance company in court to ensure that your rights are fully protected. Our lawyers at the firm are  only satisfied when you are satisfied and amaze people with our quick response to telephone and email requests.
Montagna Klein Camden LLP has  skilled, knowledgeable, and caring personal injury attorneys for motorcycle accidents in Norfolk., VA.
For many years, the Norfolk, VA motorcycle accident lawyers at lawyers at Montagna Klein Camden LLP have represented military, union workers, civilian, first responders, teachers, and retirees, who have suffered severe and debilitating injuries.  Our lawyers know that you deserve to be fully compensated for your personal injuries as a result of the negligence of others for  your motorcycle accident in Norfolk, VA.
WHAT TO DO IF INVOLVED IN AN MOTORCYCLE ACCIDENT IN NORFOLK, VA:
The time following a motorcycle accident is crucial and that can make it an incredibly stressful time period.
Filing a lawsuit with an auto accident lawyer guiding you through it may be the last thing on your mind but it is important to take certain steps in the aftermath of your accident as they can affect any legal claims you decide to file later.
Get a medical evaluation: Your health and wellbeing should be your number one priority following your accident. If you are not transported to a hospital from the scene of the crash, make sure that you see a doctor yourself. The doctor will identify, diagnose, and treat any injuries you've sustained which will significantly reduce the likelihood of suffering from complications in the future. Your medical evaluation will be an imperative piece of evidence when you later file an auto accident claim.
Report the crash: Report the crash immediately. An officer will arrive to survey the scene and document the incident. The officer's report will contain important details relevant to the accident that could get lost over time including current weather conditions, eyewitness testimony and information, and traffic conditions.
Gather evidence: Start by taking photos of the scene of the accident, the damage done to any involved vehicles, and your injuries. We also recommend writing down your recollection of the event as this can help to refresh your memory later down the line.
Refuse preliminary settlement offers: Recovering compensation after a car accident in Hampton Roads is not easy. To ensure that you are properly compensated for your injuries, do not speak to insurance companies until you've consulted with an motorcycle accident attorney.
Contact an attorney: Hiring a motorcycle accident attorney is the best way for you to maximize the amount of compensation you receive for your injuries and damages. Call Montagna Law today to schedule a free consultation with our expert legal team.
NORFOLK MOTORCYCLE ACCIDENT LAWYERS FAQ :
WHAT IS AN UNINSURED VEHICLE?
Pursuant to Section 38.2-2206 (B) of the Code of Virginia, 1950, as amended, "Uninsured motor vehicle" means a motor vehicle for which (i) there is no bodily injury liability insurance and property damage liability insurance in the amounts specified by § 46.2-472, (ii) there is such insurance but the insurer writing the insurance denies coverage for any reason whatsoever, including failure or refusal of the insured to cooperate with the insurer, (iii) there is no bond or deposit of money or securities in lieu of such insurance, (iv) the owner of the motor vehicle has not qualified as a self-insurer under the provisions of § 46.2-368, or (v) the owner or operator of the motor vehicle is immune from liability for negligence under the laws of the Commonwealth or the United States, in which case the provisions of subsection F shall apply and the action shall continue against the insurer. A motor vehicle shall be deemed uninsured if its owner or operator is unknown.
WHAT IS NEGLIGENCE? 
It is essentially the failure to reasonable care for other people.
WHAT IS A TBI?
Traumatic Brain Injury is an injury to the brain that is usually caused by a sudden or violent jolt or impact to the head.
IF I AM INJURED IN AN MOTORCYCLE ACCIDENT IN NORFOLK, VA, WHAT COMPENSATION CAN I GET?
You may receive compensatory damage, to include, but not be limited to payment for medical bills, lost wages, pain and suffering.  Additionally, where applicable, one may receive punitive damages  which are damages awarded to punish the wrongdoer.