What Steps Should I Take After I Have Been in a Motorcycle Accident in Norfolk, Virginia?
The time following a motorcycle accident is crucial, and that can make it an incredibly stressful time.
Filing a lawsuit with an auto accident lawyer to guide you through it may be the last thing on your mind, but it is important to take certain steps in the aftermath of your accident, as they can affect any legal claims you decide to file later.
1. Get a Medical Evaluation
Your health and well-being should be your number one priority following your accident. If you are not transported to a hospital from the scene of the crash, make sure that you see a doctor yourself. The doctor will identify, diagnose, and treat any injuries you have sustained, which will significantly reduce the likelihood of suffering from complications in the future. Your medical evaluation will be a critical piece of evidence when you later file an auto accident claim.
2. Report the Crash
Report the crash immediately. An officer will arrive to survey the scene and document the incident. The officer's report will contain important details relevant to the accident that could get lost over time, including current weather conditions, eyewitness testimony and information, and traffic conditions.
3. Gather Evidence
Start by taking photos of the scene of the accident, the damage done to any involved vehicles, and your injuries. We also recommend writing down your recollection of the event, as this can help refresh your memory later.
Refuse preliminary settlement offers. Recovering compensation after a car accident in Hampton Roads is not easy. To increase your chances of being properly compensated for your injuries, do not speak to insurance companies until you have consulted with a motorcycle accident attorney.
4. Contact an Attorney
Hiring a motorcycle accident attorney is the best way to maximize the amount of compensation you receive for your injuries and damages. Call Montagna Law today to schedule a free consultation with our knowledgable legal team.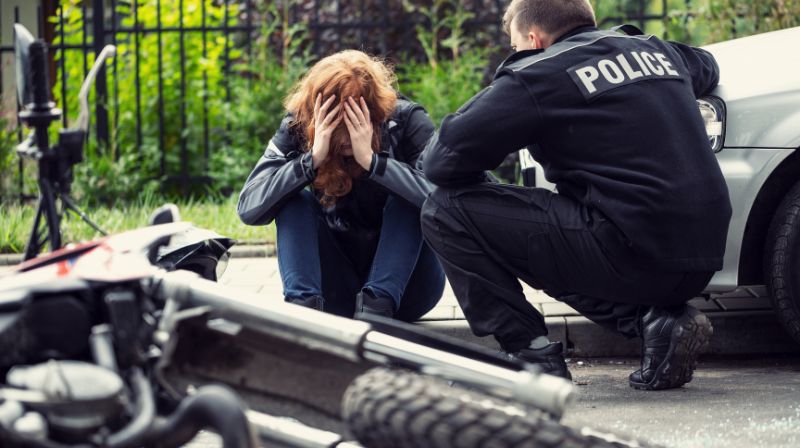 Where Is the Safest Place to Ride a Motorcycle in Norfolk, Virginia?
According to the Virginia DMV, the safest place for motorcyclists is on the highway rather than on local roads and streets. This may be because bikers often have more room to maneuver and more open space to avoid accidents than on traffic-ridden local roads.
What Are the Most Common Types of Motorcycle Accidents in Norfolk, Virginia?
Bikers deserve a reasonable expectation of safety, and a collision with another motor vehicle caused by a reckless motorist is a betrayal. Motorcycle accident cases each carry unique elements, but there are several factors that personal injury attorneys see more often than others.
Lane Changing
When a motor vehicle changes lanes, the driver is responsible for knowing who is around them and when someone might be in their blind spot. If they are careless and strike your bike, you may be eligible to file a motorcycle accident claim.
Distracted Driving
Distracted driving covers multiple issues, such as talking on the phone, reading a book or newspaper, looking at a GPS map, playing with the stereo, and even eating and drinking. If the driver has their attention away from the road, they can be found liable in a personal injury case.
Reckless Driving
Reckless driving is at the heart of most personal injury claims. It means that the driver was behaving in a careless manner contrary to the way a reasonable person would act, whether distracted, driving too fast for conditions, ignoring signs, exhibiting road rage, or anything else.
Poor Road Conditions
When a driver experiences loose gravel, cracked pavement, oil spills, potholes, or any other difficult terrain on the road, they have a responsibility to slow down and be careful. If they fail to behave responsibly and an accident occurs, they can be responsible for the damages suffered by motorcycle accident victims.
Inclement Weather
Just like with road conditions, if motorists experience rain, snow, ice, or even extreme heat, they should adjust their driving accordingly. Failure to do so can result in the filing of personal injury claims.
Rear-End Collisions
The majority of the time when someone strikes another from behind, the car in the rear is responsible. This is not always the case, but it usually holds true. Motorcycle riders struck from behind should contact a qualified Norfolk personal injury lawyer right away.
What Compensation Can I Get After a Motorcycle Accident in Norfolk, Virginia?
Motorcycle accidents can be far more catastrophic than other types of vehicle accidents, rivaling truck accidents in the scope of damage they cause to motorcycle riders. Motorcycles do not offer the protection of walls and a roof, so accidents can result in bikers' lives changing in an instant, often permanently. You may be eligible for a wide range of damages, including the following:
Pain and Suffering
Pain and suffering refers to all of the invisible injuries you suffer. This can include emotional and mental health issues, PTSD, mood swings, depression, loss of consortium, physical pain, loss of the ability to enjoy life, and other issues. Sometimes these result from issues like traumatic brain injury, but they can also result from trauma.
Medical Expenses
Medical expenses include all your medical bills related to your motorcycle accident injuries, including doctor's visits, procedures, surgery, therapy, medication, travel to and from appointments, and even the cost of in-home care.
Lost Wages
Lost wages compensation covers the wages you have already lost from being unable to work, plus those you would have earned in the future but now will not. It also covers retirement benefits you would have paid into an account.
Wrongful Death
Wrongful death means that you have lost a loved one to someone else's reckless behavior. In this case, family members can recover medical bills, lost wages of the victim, pain and suffering, and funeral and burial expenses.
Damages to Your Motorcycle
This can include repair costs or the replacement cost of your motorcycle.
Many people ask about punitive damages. These are very hard to get and are usually only awarded in the most egregious cases, such as malicious acts and DUI cases. Your VA motorcycle accident lawyer will let you know if they are on the table.
Why Should I Hire a Norfolk Motorcycle Accident Attorney?
The right Norfolk motorcycle accident lawyer can give you the best shot at full, significant compensation for the motorcycle accident injuries you have suffered. We can take on bullying insurance companies and stand up for your rights in the face of their disclaimers, fine print, and cajoling. We can help prove fault that stands up to Virginia's contributory negligence law, which states that if you are even 1% responsible, you may lose your right to compensation.
We can help you meet important deadlines like the two-year statute of limitations, and file all your paperwork properly. We provide the legal advice you need and are a compassionate ally when you desperately need it.
The Montagna Law law firm has logged thousands of miles representing clients all over Southeast Virginia, including residents of Virginia Beach, Chesapeake, Suffolk, Portsmouth, Newport News, and Norfolk. Let us fight for you so you can fight to get well again.
Montagna Law: The 'Go To' Motorcycle Lawyers in Norfolk, Virginia
The motorcycle accident lawyers at Montagna Law, LLP have over 125 years of combined legal experience. Our lawyers will fight to get you your money if you are injured as a result of the negligence of others in a motorcycle accident in Norfolk, Virginia. When you are looking for motorcycle accident lawyers in Norfolk, Virginia call us today at 757-622-8100. We will maximize your recovery through a settlement or jury trial.