Recent Car Accident Lawsuit and Settlement Victories
The personal injury attorneys at Montagna Law have recovered millions of dollars in settlements and judgments for clients throughout Virginia. We will fight for your right to fair compensation and will not stop until we have obtained everything you deserve.
Some of our victories for our clients include:
$750,000 in a car accident case
$995,000 in a truck accident case
$500,000 in a car accident case
$600,000 in a premises liability case
$1,000,000 in a slip-and-fall case
$1,900,000 in an industrial accident case
What Should You Do After an Accident in Virginia?
After a motor vehicle accident, you can start building a claim for damages right away, but your first priority should be safety.
Check to See Who Is Hurt
Start with yourself. You might need immediate medical treatment. Check on any passengers in your vehicle. If you can exit the vehicle safely, check on the other driver or drivers involved in the crash. Do not try to move anyone unless they are in immediate danger.
Call 9-1-1
The dispatcher will send paramedics if anyone needs immediate medical attention. The police will also respond to investigate the accident. You will need the police report later for your insurance claim.
Answer the police officer's questions as best you can. Be truthful, but do not volunteer more information than they ask you to provide.
Exchange Information
You should exchange insurance and contact information with other drivers at the scene.
Gather Information and Evidence
Get the names and contact information of any witnesses who are still at the scene. The police may also be interviewing witnesses, so take care not to get in their way.
Take pictures of the accident scene, the damage to your vehicle, and your injuries if possible. Get license plate numbers for all of the vehicles. If a semi-trailer or other commercial truck was involved, get the Department of Transportation number and the name of the company. The more evidence you can gather, the more you can provide to a personal injury lawyer later on.
Your recollection of the accident will also be important to your claim. Try to write down as much as you can about what you remember. Describe the circumstances of the accident, such as where you were, where the other driver or drivers were, whether you think anybody was speeding or violating any other traffic laws, and how the accident happened.
Seek Medical Care
Depending on the severity of your injuries, the paramedics may have already taken you to the hospital. If not, seek medical attention as soon as you can. Car accidents can cause serious injuries. Some injuries may not seem serious at first. Whiplash, for example, can take some time to show its symptoms.
Contact Your Insurance Company
You will need to notify your insurance company as soon as possible after the accident. Let them know that a police report has been or will be filed.
Provide basic factual information about the accident if asked, but do not go into detail or provide any information they did not specifically request. An insurance adjuster may try to use any information you provide to minimize the amount of compensation they may have to pay you.
Contact a Virginia Car Accident Lawyer
As soon as you are able to do so, contact an experienced attorney who can help you make a car accident claim. They can take over the process of gathering evidence and communicating with insurance companies so that you can focus on medical care and recovery.
Types of Car Accident Cases Montagna Law Handles
Montagna Law handles all types of car accidents that occur on Virginia roads. We have represented thousands of clients in claims involving personal injuries caused by car accidents, truck accidents, motorcycle accidents, and other motor vehicle crashes.
Head-On Collisions
Head-on collision accidents involve two vehicles whose front parts collide with one another. They often result in fatalities. When not fatal, they can cause traumatic brain injuries and injuries to the neck or spine, which can result in paralysis or other permanent disabilities.
Rear-End Accidents
Rear-end accidents occur when one vehicle rams into another from behind. The driver in front may have braked a little too suddenly, or the driver at the back may have had a problem braking and bringing their car to a halt. Car accidents like this can cause injuries like whiplash and sciatica. According to current statistics, there are about 1.7 million such accident cases reported annually in the United States.
T-Bone Collisions
T-bone collisions may occur at intersections when an oncoming vehicle rams into the side of another. This type of accident may sometimes be due to speeding, wanting to beat the traffic light, or failure to yield the right-of-way to another motorist. Fatal injuries can result in many circumstances.
Sideswipe Accidents
This kind of accident occurs when one vehicle brushes another sideways. It may occur when a driver passes too close to a vehicle parked on the side of the road, or when drivers fail to maintain their lanes on the road. Injuries can range from mild to severe, especially if the contact between the vehicles causes one or both to veer off of the road or into oncoming traffic.
Chain-Reaction Crashes
Also known as multiple crashes, these occur when a vehicle collides with another vehicle and causes it to collide with more vehicles. A chain-reaction crash could involve three vehicles or, in a few extreme cases, as many as a hundred vehicles. Accident victims may suffer injuries like whiplash, concussion, broken bones, and neck pain.
Single Vehicle Accidents
A vehicle could be involved in an accident by sliding off the road or hitting a standing object. This could result from loss of vehicle control, poor road conditions, problems with the braking system, or bad weather, to name but a few possible causes.
Hit-and-Runs
A hit-and-run accident occurs when a vehicle hits another vehicle or a pedestrian, and the driver does not remain at the accident scene to wait for the police to arrive. Injuries can range from minor to severe, depending on the circumstances of the crash.
The main challenge in a hit-and-run accident is identifying and locating the at-fault driver. If you have been the victim of a hit-and-run accident, it may be necessary to make a claim on your own insurance if you have uninsured driver coverage.
Drunk Driving Accidents
Safe driving requires attention to road conditions, other vehicles on the road, pedestrians, and other potential hazards. Alcohol and various drugs can impair a driver's ability to operate a vehicle safely. Driving under the influence is illegal everywhere in the U.S., and can have serious penalties. It is also a significant cause of car crashes.
Distracted Driving Accidents
Virginia law prohibits drivers from using handheld electronic devices like cellphones while driving. Texting and other actions while driving can have a drastic effect on a driver's ability to react to road hazards. It is a cause of thousands of car accidents across the country every year.
Failure to Yield
Traffic accidents may occur in situations where one driver is supposed to yield to another driver but fails to do so. Vehicles making a left turn, for example, are often supposed to yield to oncoming traffic. A car that makes a left turn without yielding could strike or be struck by an oncoming vehicle. Other examples of failure-to-yield accidents could involve lane changes and merging into traffic when entering or exiting a highway.
Rollover Accidents
Trucks with high centers of gravity are at particular risk for rollovers. They may occur in truck accidents when a large truck tries to turn too quickly or has improperly-loaded cargo. Rollover accidents can cause immense damage. The truck driver could face serious injuries or death, and other vehicles on the road are at risk of colliding with the truck, its cargo, or other vehicles.
Left-Turn Accidents
Left-turn accidents are a type of failure-to-yield accident. They occur when vehicles making left turns do not yield the right-of-way to oncoming traffic as required by Virginia law. Depending on the circumstances, the turning vehicle could hit the side of an oncoming vehicle, or an oncoming vehicle could hit its side. The two vehicles could have a head-on collision instead, potentially causing even worse injuries.
Parking Lot Accidents
Crowded parking lots are often the scene of fender benders that cause property damage. Car crashes in parking lots can also cause serious injuries in some situations. Head-on and T-bone collisions are possible at various speeds.
Highway Accidents
Accidents on highways can be among the deadliest and most destructive on Virginia's roads. This is largely due to the higher speed limits on state and Interstate highways. Vehicles traveling faster hit one another with more force, causing more damage and worse injuries. Higher speeds can also make weather conditions and road hazards more dangerous.
Icy Road Accidents
Winter weather in Virginia can bring snowstorms and icy conditions. Drivers must be extra careful when driving on ice because of the difficulty of controlling their vehicles. Accidents may result from the loss of vehicle control due to driver error or a wide range of other factors.
Lyft/Uber/Rideshare Accidents
Many people in Virginia rely on rideshare app services for transportation. Unfortunately, rideshare drivers can get into accidents too, whether from their own negligence or the negligence of others on the road. Passengers who have been injured in a rideshare accident may have a claim against the driver or the rideshare company, depending on the circumstances of the accident.
School Bus Accidents
Buses are similar to large commercial trucks in many ways. They are more cumbersome to operate and require special training. They can also cause serious damage and injuries in accidents. School buses and their drivers are subject to numerous legal requirements because of the importance of their passengers. Recovering damages for injuries sustained in a crash involving a school bus requires knowledge of these legal requirements.
Is Virginia a No-Fault State for Accidents?
Some states have adopted a "no-fault" system for personal injury claims involving car accidents. Drivers in these states must carry auto insurance that pays compensation for certain losses, such as medical bills and lost wages, no matter who was at fault in the accident. Virginia is not among these states.
Virginia is a "fault" state for car accidents. In order to recover damages in an auto accident case, you must make a claim against the at-fault driver's insurance or file a lawsuit against them in court. Proving fault usually involves the legal theory of negligence.
To establish that a person was legally negligent, and therefore financially responsible for your injuries, you must prove four elements:
The person owed a duty of care to you or the public. Drivers have a duty to drive safely and obey traffic laws, such as by stopping at red lights and yielding the right-of-way.
The person breached their duty of care, such as by failing to yield the right-of-way to you.
That breach caused your injuries. If the failure to yield the right-of-way involved a left turn that led to a collision with your car, you would have to show that your injuries were the direct result of the crash.
You suffered damages as a result. You must show that your injuries caused you measurable harm, such as by making you incur medical expenses and miss work.
How Long After a Car Accident Can You Sue in Virginia?
Virginia law sets a deadline for filing a personal injury lawsuit, known as the statute of limitations. For motor vehicle accidents, the statute of limitations in Virginia is two years from the date of the accident. If you file a lawsuit two years and one day after the accident, the court will dismiss the suit and you will have few, if any, options for recovering compensation.
Note that filing a lawsuit is usually the last resort after failing to obtain an acceptable settlement offer from the driver's insurance company. You should start the insurance claim process as soon as possible after the accident so you do not run out of time to file suit.
How Long Will My Car Accident Case Take?
The length of time your auto accident case will take could be anywhere from a month or two to several years. It depends on many factors, including:
The circumstances of the accident
The insurance company's willingness to negotiate a settlement
Whether you are willing to settle before either filing a lawsuit or going to trial
Your case will take a minimum of several weeks, which is the amount of time you and your attorney will most likely need to gather all of the evidence you will require for your claim. If you are able to reach a settlement agreement with an insurance company, the case might not take much longer than that. It could also take much longer.
The majority of personal injury cases settle before a lawsuit is filed. Among the cases that result in a lawsuit, the majority of those settle before trial. You have two years to file suit. Whether you need all of that time to try to negotiate with the insurance company depends on the factors described above.
Once you file a lawsuit, the case goes through several stages that could take several months to a year or longer. If you want to go to trial, you will have to wait for an opening in the court's docket, which could take several more months. At this point, several years may have passed since the accident.
What is the Average Settlement for a Car Accident?
Settlements for car accidents can range wildly in value. It is nearly impossible to estimate an average with so many factors at play.
The amount you will receive for your car accident depends on a number of variables, including:
The amount of damage to the vehicle
The severity of your injuries
The circumstances surrounding the accident
The at-fault party in the accident
Any economic damages due to lost time from work or inability to return to work
At Montagna Law, we have settled auto accident claims up to millions of dollars. While we cannot tell you with certainty how much of a settlement to expect, we can promise that we will fight to help you recover the largest settlement possible. We are so confident in our ability to get you money that we collect an attorney's fee only after our clients get paid.
How Does Contributory Negligence Work in Virginia?
Virginia uses a legal concept known as "contributory negligence" in personal injury cases. It sets very harsh limits on the ability to recover damages in court.
If a defendant in a personal injury lawsuit can show that a plaintiff contributed to the accident in any way, the plaintiff may not be able to recover any damages for their injuries. Suppose the defendant in a case was overwhelmingly responsible for the accident, to the point that the jury found that they were 99% at fault. The 1% of fault for the accident attributed to the plaintiff would mean they receive nothing.
Many states have abandoned contributory negligence and use a system known as comparative fault instead. This system allows a plaintiff to recover damages even if they were partly responsible for the accident, as long as they were less than 50% at fault. It reduces their damages by the percentage of fault attributed to them. If a plaintiff had $50,000 in damages and was found by a jury to be 25% at fault, their damage award would be reduced by one-fourth to $37,500.
Insurance companies and their attorneys may try to take advantage of the contributory negligence system. If they can pin any responsibility onto you, they can avoid having to make any payout to you at all. Legal representation by an experienced auto accident attorney can be critically important in preventing this from happening.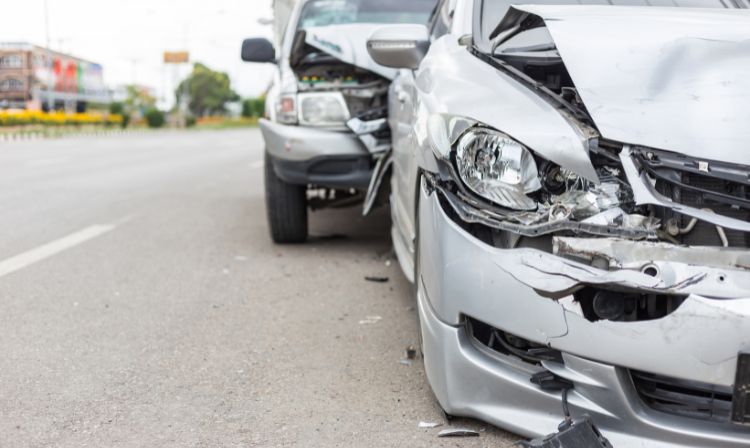 Should I Hire a Lawyer After a Car Accident?
Having a Virginia car accident lawyer on your side in your case offers many benefits for you:
We Identify the At-Fault Party
It is imperative to determine the precise causes of your car accident. Identifying the parties who had a role in your auto accident will help to maximize your financial recovery.
We Level the Playing Field
When you have been injured in a car accident, you will probably be dealing with the at-fault party's insurance company. Your health and wellbeing are not at the top of the insurance company's mind. Their goal is to minimize the amount of money you get.
An auto accident attorney can protect you from insurance companies' unfair tactics. Our attorneys level the playing field and ensure that they make a settlement offer that covers your accident-related costs.
We Ensure Your Case Is Properly Valued
When victims of car accidents attempt to handle their case on their own, they may rely on an insurance company's assessment of their case's value. They want to keep your payout as low as possible, so they will almost certainly undervalue your injuries and ignore factors like reduced earning capacity or emotional distress.
Recently Injured in a Crash? Call Montagna Law.
Call us today at (877) 622-8100 to schedule a free consultation where you can learn more about auto accident laws and the benefits of hiring one of our car accident lawyers in Virginia. You do not have to fight this battle alone.
Hit-and-runs
Head-on collisions
Drunk driving accidents
Distracted driving accidents
Failure to yield
Rollover accidents
Rear-end collisions
Left-turn accidents
Parking lot accidents
Highway accidents
Icy road accidents
Lyft/Uber/Rideshare accidents
School bus accidents
Our auto accident attorneys in Virginia apply our same compassionate approach and extensive legal knowledge to each and every case we handle. This approach guarantees that our client gets the maximum chances of obtaining a settlement or verdict to recover financially and physically after their major auto accident. We proudly serve Virginia to include Chesapeake, Virginia Beach, Suffolk, Portsmouth, and Norfolk.