Virginia Beach Truck Accident Statistics You Should Know
In 2022, commercial vehicle crashes accounted for 2.4 percent of all traffic crashes. There were a total of 2,981 accidents involving commercial motor vehicles. Sixty of those crashes were fatal. Only 20 percent of fatal truck accidents killed the truck driver or their passenger, meaning at least 80 percent of fatal truck accidents killed drivers or passengers in other vehicles.
Most Common Types of Truck Accidents in Virginia Beach
Montagna Law handles all types of Virginia Beach personal injury cases.
Many types of cases fall under the personal injury umbrella (including truck accident cases), and you need to work with a law firm that has experience working with them all. The Virginia Beach truck accident lawyers at Montagna Law understand the intricacies within this area and have the resources and skillset to fight for your compensation.
The following are the most common types of vehicle accidents we see.
Head-On Collisions
Head-on collision accidents involve two vehicles whose front parts collide with one another. These crashes are often fatal, depending on the speed of each moving car. If you or a loved one have been involved in a head-on collision in Virginia Beach, we can help you fight to receive compensation for your losses through a personal injury or wrongful death claim.
Rear-End Accidents
Rear-end accidents often occur when one motor vehicle rams into another from the rear. In cases like this, the driver in front may have braked a little too suddenly, or the driver at the back may have had a problem braking and bringing their car to a halt. A rear-end car accident can cause whiplash, sciatica, and other kinds of injuries.
T-Bone Collisions
T-bone collisions are common at intersections. These types of automobile collisions occur when an oncoming vehicle rams into the side of another. This accident may sometimes be due to speeding, wanting to beat the traffic light, or failure to yield the right-of-way to another driver. Sadly, T-bone car accidents often lead to fatal injuries. Our Virginia Beach personal injury lawyers are familiar with cases like this and will help you file a personal injury or wrongful death claim.
Sideswipe Accidents
Sideswipe crashes occur when the sides of two vehicles scrape against one another. This kind of accident commonly happens when drivers fail to maintain their lane on the road. Semi-trucks and smaller commercial vehicles are common causes of sideswipe accidents due to the blind spots on large trucks.
Chain Reaction Crashes
These are also known as multiple crashes. This occurs when one car causes others to hit the cars before or after them. Chain reaction crashes are usually caused by a huge force of impact that sends multiple vehicles into one another, often causing extensive property damage and injuries. Victims may suffer injuries like whiplash, concussion, neck pain, and other severe injuries. These personal injury cases can become complex due to the number of involved vehicles and insurance policies. A skilled Virginia Beach truck accident attorney can help guide you through these claims.
Single-Vehicle Accidents
Single-vehicle accidents typically occur when a single vehicle is involved in a crash. The crash may be because it slid off the road or because it hit a standing object. Such an accident may be caused by excessive speeding, loss of vehicle control, problems with the braking system, and more. Our Virginia Beach personal injury attorneys are ready to work with you to get the legal representation you need.
How Do Truck Accident Cases Differ From Car Accidents in Virginia Beach?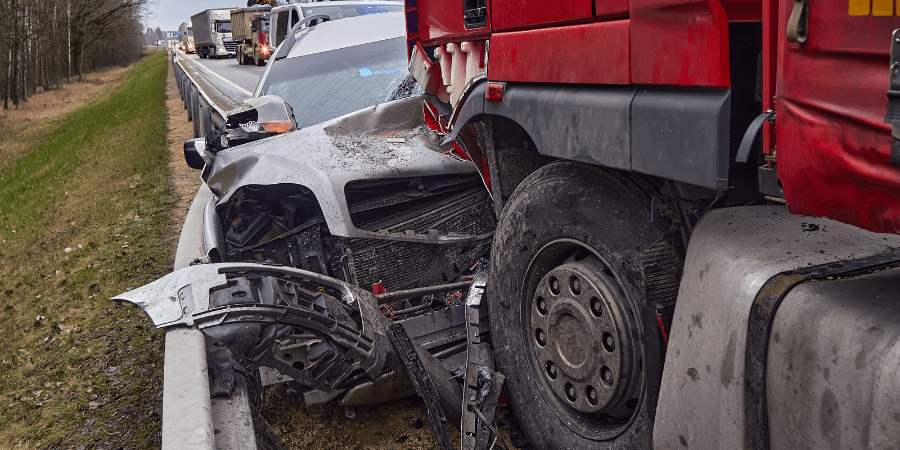 If you have been in a car accident before, you might assume that a truck accident claim proceeds in a similar fashion as it does for car accidents. However, the average commercial freight truck weighs about 80,000 pounds or more; this is 20 times the weight of a passenger car. As such, there is a much greater chance of severe injuries and several other critical differences between auto accidents and truck accidents.
As a general rule of thumb, the more serious the resulting injuries, the more complex and expensive the claim. Truck accidents often involve complex medical evidence and high-pressure insurance tactics that make them much more challenging than conventional auto accidents.
For example, carrier companies and their insurance providers know how high the stakes can be in a truck accident case. They are prepared to defend aggressively. Our experienced Virginia Beach truck accident lawyers can protect your interests and level the playing field. Call today at 877-622-8100 or fill out our online contact form to schedule your free consultation.
Increased Severity of Damage
Financial damages can quickly add up to tens of thousands of dollars, not to mention immense emotional pain and suffering.
More Serious Injuries
Truck accidents can cause catastrophic injuries that come with intensive medical care and bills. Injuries following a truck accident are often life-altering, especially ones such as traumatic brain injury, since these cells do not regenerate to heal themselves.
Larger Insurance Policies
Truck drivers' insurance policies can be up to 50 times larger than car accident insurance policies. Because of this, these insurance companies will do everything within their power to prove the drivers and companies they represent are not charged with accident liability.
Larger Medical Bills
Truck accident victims tend to spend much longer in the hospital for their injuries than car accident victims.
Greater Chance of Fatalities
An accident with a large commercial truck is significantly more likely to result in death than a crash involving two cars.
What Are Common Causes of Truck Accidents in Virginia Beach?
Most of the truck accidents that occur in Virginia Beach involve some level of negligence, recklessness, or simple carelessness. Unfortunately, this means many truckers cause accidents in the greater Hampton Roads area that could be prevented if the drivers, owners, and other third parties put safety above profits.
Driver Fatigue
Drivers are often pressured to move their loads as fast as possible. As a result, their bosses may pressure them to break rules to get their deliveries and pickups done quickly to save money. Independent drivers may work longer hours of service to generate more profits.
Whatever the motivation, the bottom line is fatigued drivers are unsafe drivers. Exhausted commercial truck drivers on interstates like I-264 are at risk of causing catastrophic accidents with tragic outcomes.
Drunk or Distracted Driver
Drunk and distracted drivers act recklessly and need to be held accountable for their behavior. Distracted driving is one of the top causes of motor vehicle accidents, with DWIs not too far behind. Sadly, both are entirely preventable, yet every year in Virginia Beach, people are hurt or killed due to these irresponsible behaviors.
Equipment Failure
Equipment failure unfortunately occurs, and a lack of maintenance puts tractor-trailers and other commercial vehicles at risk of not operating correctly. For instance, vehicles parked at beaches for extended periods of time develop rust due to salt and sun exposure. Over time, this can lead to severe corrosion and cause vehicles not to operate safely.
Cargo Loaded Incorrectly
Most trucks carry some sort of cargo. When shipments are not correctly loaded, it creates a dangerous situation for everyone else using Virginia Beach's roadways. For instance, if cargo spills, this creates hazards for other drivers, whether the debris lands on the road or flies onto the windshields of other vehicles.
Lack of Training
Before truckers can operate legally on their own, they must complete a designated number of training hours. With driver shortages occurring in recent years, motor vehicle operators of large trucks may not have the experience needed to operate an 18-wheeler or even a commercial van safely. Sometimes, they even lie about their level of training and experience on their applications, which constitutes negligence.
What Kind of Compensation Can I Get From a Virginia Beach Truck Accident Claim?
Every truck accident is different, and the amount of compensation a Virginia Beach truck accident victim can recover depends on several factors, including the circumstances of the accident, the relevant insurance policies, and the nature of your injuries. For instance, a big rig barreling down the interstate is likely to cause a pileup or other serious accidents. Yet, even a truck traveling at slower speeds along the oceanfront or near the Virginia Beach boardwalk can still seriously injure pedestrians, cyclists, and motorists.
A truck accident lawyer can help you recover the most damages to pay for your medical expenses. Our Virginia Beach truck accident lawyers not only ease the stress and anxiety that is natural in the aftermath of a truck accident but also determine the at-fault party in the accident and what compensation should come from it. Call our Virginia Beach office at 877-622-8100 or use our online contact form to schedule your free consultation to discuss your case.
What Factors Impact Virginia Beach Truck Accident Claims?
Several factors impact the ability to file a truck accident injury claim successfully. You must prove negligence, liability, and the extent of your economic and non-economic losses. Working with a skilled Virginia Beach personal injury attorney can make the difference between an insufficient settlement or adequate compensation to cover your losses caused by a truck crash.
Negligence
If you have sustained injuries in a Virginia Beach commercial truck accident, proving the accident was a result of negligence is key to the process of recovering maximum compensation for your losses. In truck accidents, negligence can be any behavior or act that may be considered a breach of duty on the truck drivers' part according to their duty of care.
Under the Federal Motor Carrier Safety Administration (FMCSA), truck drivers are responsible for following certain federal regulations while on duty, including:
Maintaining a log of hours driven
Driving no more than 10 hours per day
Documenting rest and service breaks
Not using drugs or alcohol
Loading cargo precisely
Adhering to legal service and maintenance requirements
If you are involved in an accident with a truck driver who has failed to follow these regulations, you may be able to prove negligence on their part. Speak with a skilled Virginia Beach truck accident lawyer to discuss the possibilities of your case and begin the recovery process.
Liability Factors
Commercial trucking accidents are viewed differently, largely because truck drivers are generally employed by a trucking company. As the employer of the truck driver involved in or who caused the accident, the legal responsibility may fall on the trucking company. Other parties who may be liable in a Virginia Beach truck accident include:
Commercial vehicle manufacturers
Vendors used by the trucking company
Cargo owners
Local government (in the case of poor road design, lacking signage, etc.)
The Extent of Damage and Severity of Injuries
A Virginia Beach truck accident claim also requires a comprehensive examination of the extent of damage and the severity of the sustained injuries. To build a sustainable truck accident claim, one must take all the resulting expenses and factors into account.
Without a skilled truck accident attorney by your side, it can be extremely difficult to recoup all of the economic and non-economic losses sustained during your Virginia Beach truck accident. Here at Montagna Law, we partner with you to fight for compensation for all of the trouble you have undergone during and following your truck accident.
Contact us for your free consultation before Virginia's two-year statute of limitations runs out. You should call even if you think you are no longer eligible to receive compensation for your accident because there are exceptions to this rule. Our Virginia Beach truck accident lawyers can vet your case and determine your eligibility.
Montagna Law Will Fight For You and Your Loved Ones!
For over 50 years, Montagna Law has represented truck accident victims in Virginia Beach. Our caring and compassionate personal injury lawyers are committed to fighting for Virginia Beach injury victims, one accident at a time. Sadly, truckers traveling through the Hampton Roads area often do not drive as carefully as they should. As a result, truck accident victims get caught in the crossfire of their negligence and suffer because of it.
Our dedicated Virginia Beach law firm staunchly believes this should not be the case. We promise to fight those responsible and hold them and their insurance companies accountable for their reckless behavior. By working with Montagna Law, you will get the maximum chances of obtaining a settlement or verdict to recover any losses due to your injuries and have enough money to maintain the income you lost due to negligence.
To learn more about how the Montagna Law legal team can help you, call us today for a free consultation at 757-622-8100 or contact us via our online contact form.