What Are the Most Common Causes of Motorcycle Accidents in Newport News?
Sadly, motorcyclists often suffer long-term or permanent injuries after an accident. Common causes of motorcycle crashes in Newport News include the following.
Driving while under the influence of alcohol or drugs
Inattentive driving
Distracted driving
Speeding
Following too closely
Unsafe lane changes
Not carefully looking in blind spots
Unsafe lane changing
Reckless or aggressive driving
Much of the time, a crash is not a motorcyclist's fault. Rather, it is due to the actions of the motorist of a larger motor vehicle, such as a car, SUV, truck, or bus.
What Are the Chances of a Motorcycle Accident?
Anytime you drive on the road, there is a chance of an accident occurring. While motorcycle accidents are less prevalent than car crashes, they are usually more serious and have catastrophic results. In the U.S., there are about 89,000 motorcycle accidents a year that result in either injury or death. According to statistics, most motorcycle accidents occur in August and the least in January, mostly due to warmer weather.
Since 76% of motorcycle crashes are front collisions, many result in severe injuries, such as traumatic brain injury, road rash, disfigurement, and spinal cord injury, to name a few. However, the seriousness of injury will also depend upon many factors, such as speed, type of impact, and whether alcohol use is a factor. Furthermore, helmet use and the wearing of additional protective gear also contribute to accident fatalities and injuries. For instance, more than 2,100 people die each year due to a lack of helmet use. Virginia law stipulates motorcyclists must wear helmets.
What to Do After a Motorcycle Accident in Newport News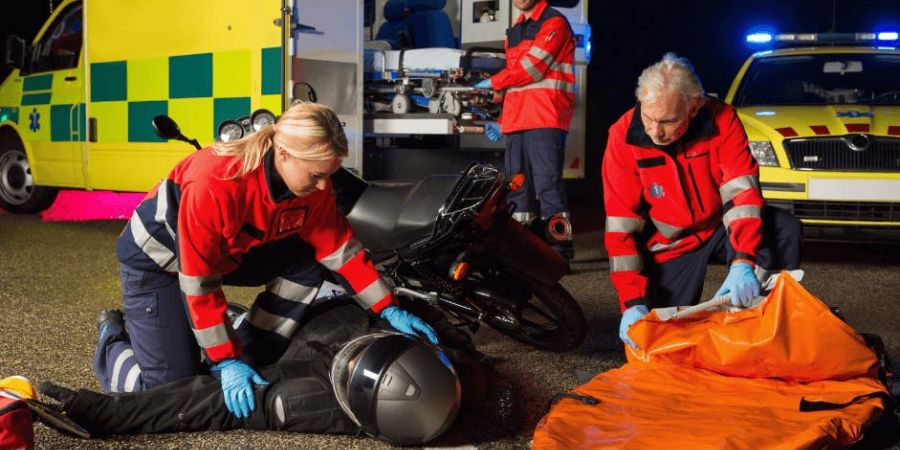 If you or a loved one is involved in a motorcycle accident in Newport News or anywhere in Virginia, you will want to take the following steps.
Move out of the way of moving traffic, if able.
Call the police so the accident is on record and a report is filed.
If severe injuries are obvious, immediately call 911.
Write down the other driver's contact and insurance information.
Obtain a thorough physical examination by a medical provider to ensure you have no hidden injuries.
Follow any treatment recommendations by your healthcare provider.
Gather evidence at the crash site, including photos, video, witness contact information, and write down any other pertinent information.
Obtain an estimate of damages for your motorcycle.
Inform your employer if you will be missing work due to injury.
Call a Newport News motorcycle accident attorney.
It is vital to be careful what you say at the crash site and during the aftermath of the collision. Insurance companies are notorious for using what you say against you to avoid paying out settlements. Speaking to a knowledgeable lawyer as soon as possible will empower you to better protect yourself against insufficient compensation offers.
Why Are Virginia Motorcycle Accident Claims So Difficult?
Motorcycle accident claims are more difficult than car accident claims due to several reasons.
A primary factor is that motorcycle injuries tend to be more serious than car accidents. Injuries are often massive, even if the accident was minor. A minor car accident usually results in small injuries. However, there is no such thing as a small injury when riding a motorcycle. The motorcyclist almost always sustains serious injuries due to their vehicles not having the same protective elements as a car or truck.
Another significant hurdle that makes these claims so difficult is the stereotypical reaction society often has about motorcyclists. Jurors often have already-ingrained perceptions about motorcyclists. They are often viewed as reckless and seen as driving in a dangerous fashion. Bikers also have a reputation for not following the rules of the road and performing actions like lane splitting or weaving in and out between cars.
Unfortunately, a motorcycle rider often faces an uphill battle when facing a jury. Virginia is a pure contributory negligence state. Basically, unlike other less harsh states, the Commonwealth's rule is if you are even 1% at fault for causing the crash, you recover nothing. If you suffer injury after experiencing a crash, working with a knowledgeable and experienced motorcycle accident lawyer can help you prove your case with the goal of obtaining compensation to cover your injuries and property damage.
What Damages Can I Recover for Motorcycle Accident in Newport News?
In Virginia, you can pursue both economic and non-economic damages. Economic damages are easily tabulated losses.
Medical expenses, including doctor visits, medications, therapies, and surgeries
Motorcycle repair costs
Loss of wages
Non-economic damages include losses that are harder to quantify.
Pain and suffering
Mental anguish
Disfigurement
Scarring
Loss of consortium
Montagna Law is very experienced in determining the extent of victims' losses. We will determine how much compensation we should pursue in each client's situation. Our attorneys will work hard to keep insurance companies from offering lowball settlements.
How Long Does a Motorcycle Accident Lawsuit Take in Newport News?
It is difficult to ascertain a timeframe of how long a motorcycle accident lawsuit will take. Factors such as the severity of the accident, questions regarding liability, the number of parties involved, and whether the case goes to trial if a fair settlement cannot be reached. Generally speaking, it will take anywhere between a few months to a year. However, this timeframe increases if the case is highly complicated. On average, we would estimate between six months and one year.
What is the Average Settlement for a Motorcycle Accident?
Injury attorneys cannot usually immediately quote an average settlement for a motorcycle accident. The outcome of your injury claim will vary based on numerous factors.
Cause of the crash
Severity of injuries
Age and health prior to the accident
Type of employment
Length of absence from work
Type and length of medical care
Loss of earning potential
Effect of injury on day-to-day living
Impact on mental health
Egregiousness of at-fault driver's negligence
Level of pain and suffering
Loss of consortium
A large factor in determining a settlement will be how many liable parties were involved in your motorcycle accident and whether you had even a small level of fault that led to the collision. Schedule a free consultation with our personal injury lawyers to gain better insight into how much your case may be worth.
Understanding Motorcycle Laws in Virginia
Virginia law is specific about accidents. The following laws can impact your motorcycle accident case.
Other key laws, such as Code of Virginia § 46.2-833, Code of Virginia § 46.2-1038, and Code of Virginia § 46.2-1050 also apply.
Yet, don't feel as though you must learn new areas of the law. The attorneys at Montagna Law are well-versed in these and other Virginia laws relating to traffic accidents, insurance, and personal injury. We can keep the process of filing a lawsuit simple and straightforward for you.
How Can a Motorcycle Accident Lawyer Help Me Recover Damages?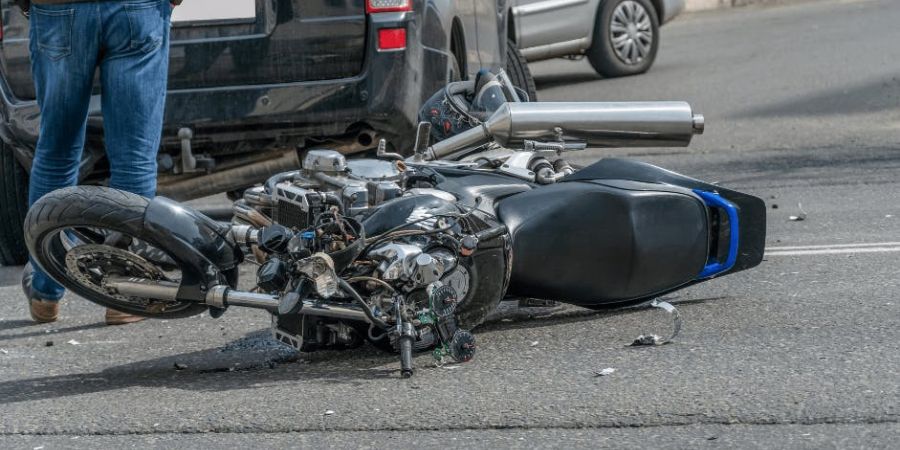 Working with an experienced personal injury lawyer improves your chance of recovering damages after a crash in Virginia. Your attorney will:
Defend you against claims that you behaved negligently
Communicate with insurance and other involved parties
Assemble documentation supporting your case
Represent you in court and in settlement discussions
Winning a motorcycle accident injury case in Newport News does have challenges, but a knowledgeable attorney can help improve your outcome.
Why Our Clients Choose Montagna Law
The biggest difference between our Newport News law firm and our competitors is the level of customer service and client access to our attorneys. Clients who work with Montagna Law can expect to receive courteous, kind, and professional treatment. The attorney-client relationship is extremely important to us.
The attorneys at our law firm completely understand the stress personal injury victims suffer. The compassionate members of the Montagna Law legal team make it a priority to set our clients at ease. We will keep them in the loop of what's happening with their cases as we battle with insurance companies to pay fair compensation to help cover medical bills and lost wages.
Our clients tell us they appreciate our quick response time to calls. While you might expect prompt responses from any attorney you hire, this is not often the case. Firms that lack a local focus on helping those in their community may not prioritize timely communication, which frustrates injured victims. We know it is important to keep you deeply informed about your case, so we make it our policy to give clients as much access to their attorney as they desire. Many other firms limit what days a client can call on their case and may limit how often or when a client can talk to the attorney. You won't find that at Montagna Law.
Kick Your Case Into Gear
The aftermath of a motorcycle accident can be filled with uncertainty. The caring and compassionate lawyers at Montagna Law understand everything you are dealing with and want to ease your burdens. When you work with our Newport News motorcycle accident lawyers, you can expect them to stand with you every step of the way.
Motorcycle accident victims in the Hampton Roads area often turn to Montagna Law. We offer years of experience and a history of providing top-notch legal services. To obtain a free case evaluation of your personal injury case and learn more about your legal options, contact us today at 877-622-8100 or fill out our online contact form.