Is the Divorce Process Different for the Military in Virginia?
When it comes to pursuing a divorce while in U.S. service, there are a few different laws when dealing with military divorces, but the process of filing for a divorce is still the same as it would be for a civilian divorce. What might be different is the way alimony and child support are paid.
Residency
If you are a military service member and want to file for divorce in the Commonwealth of Virginia, you must currently reside in Virginia or had been stationed in Virginia for at least six months immediately prior to an overseas duty station. Alternatively, if you are serving on a ship that has a base port in Virginia, you are eligible to file for divorce. If you or your spouse is a resident of Virginia, you can still file for a divorce in the Commonwealth.
Grounds for Divorce
In Virginia, "fault" grounds for divorce are specific, and a couple must meet one of the following criteria:
Adultery outside of the marriage, occurring within the previous five years
Conviction of a felony crime within the past year
Desertion and cruelty within the last year
For "no-fault" divorces, a couple must meet one of two criteria:
One year of separation if a couple has children who are under the age of 18
Six months of separation if a couple does not have children or have children who have reached 18 years of age
Unlike some other states, Virginia does not allow for irreconcilable differences to be considered as grounds for a divorce.
Separation
The definition of separation in Virginia is specific. For a couple to be considered as "separated", they must have lived apart for at least one year and that the separation was intended to be permanent. If the couple tries to reconcile, have sexual relations, or behaves with any indications in such a way as a couple would act (for example, offering gifts, providing extra financial support, running errands, etc.), this could potentially reset the one-year length requirement.
How Long Does a Military Divorce Take in Virginia?
Contested military divorces in Virginia can take up to 18 months to be resolved and settled after separation requirements are met. Uncontested divorces are much simpler and can be finalized within two to four weeks after fulfilling separation requirements. If you are serving overseas during the time you are living apart, this can count towards the time of separation required by the Commonwealth of Virginia.
How Does the Service members Civil Relief Act Protections Affect You?
Once an individual files for divorce in Virginia, the commonwealth requires the non-filing spouse to receive notification of the complaint and filing and an ability to respond to it. In a military divorce, this can get complicated because service members are so often deployed or otherwise unavailable to answer the complaint. Due to this, service members have protection under the Servicemembers Civil Relief Act.
No service: Non-filing spouses who currently serve are protected by law against default judgments if they have not received notice of the divorce. The law does allow for the judge to appoint the service member an attorney who can represent and defend them. It is the attorney's responsibility to notify said service member. Divorce proceedings will be put on hold for a period of at least 90 days.
Service: Non-filing spouses who are serving in the military and did receive notice can receive a stay of the proceedings for at least 90 days before entering a judgment of divorce. This can happen one of two ways – if the court decides to do it or the service member files an application to stay the case.
Other acts that affect military marriages include the Survivor Benefit Plan; this plan provides support to a service member's family should they die either on active duty or after retirement. In some circumstances, this plan can include former spouse coverage as well, which is identical to coverage allotted to current spouses. If former spouse coverage is chosen, the current spouse must be notified. All service members who are going through a divorce should understand the Survivor Benefit Plan and how it affects them currently and after they retire.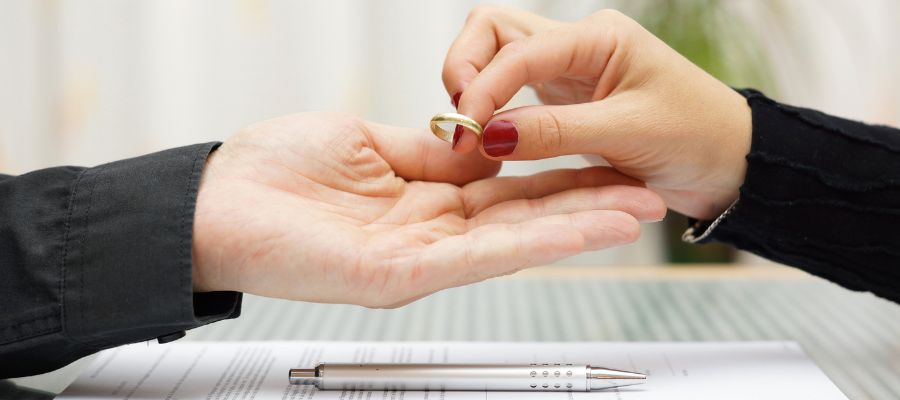 How Is Marital Property Divided in a Military Divorce?
In addition to the division of marital assets under any non-military divorce, there are provisions under the law, in some cases, where former spouses can receive up to 50% of a retired service member's pension.
According to the Defense Finance and Accounting Service, the Uniformed Services Former Spouse Protection Act (USFSPA) gives the courts permission to distribute military benefits to the ex-spouse after the divorce and provides a method of enforcing these orders through the Department of Defense.
The USFSPA a) recognizes the right of state courts to choose to distribute military retirement pay to spouses, both current and former, and b) Provides the courts with a method of enforcing orders through the Department of Defense (DoD).
This does not mean former spouses are automatically entitled to receive their ex-spouse's retired military pay – for a former spouse to receive a portion of the military member's pension, this must be stipulated in the final court order.
Additionally, in most cases, the couple must have been married for 10 years for access to military pensions to apply, but there are circumstances where this requirement might be waived.
It is always a good idea to speak to a knowledgeable military divorce lawyer, especially since Virginia Code Section 20-107.3 also considers retirement pay to be marital property.
Do You Need a Virginia Military Divorce Lawyer?
Generally, in any divorce situation, it is worthwhile to work with a skilled family law attorney who can work to protect your future. For service members who are often deployed or working in situations where they cannot afford to be distracted, working with an attorney who advocates for you to make certain your parental rights, along with a fair division of marital assets, is a good idea.
Military spouses who are at home dealing with everyday stresses and other challenges also deserve to be treated fairly, and an attorney can help them navigate the complicated issues associated with military divorces.
For both members of the military and their spouses in the midst of a divorce case, issues such as child custody, spousal support, and property division should fairly reflect the years both parties have spent connected to the armed forces. A divorce attorney versed in military matters can work to pursue a marital share of any assets or parental rights that are fair and equitable.
Both federal and state laws that can impact a military divorce often change, and an attorney who is up-to-date on these laws can work to protect your rights. Not all divorce attorneys are equipped with the knowledge needed to successfully navigate a military divorce.
You want someone who is experienced in military divorces, understands how the additional federal laws work, and is equipped to provide sound legal advice. Hampton Roads is home to over 80,000 active duty military members. Wouldn't you agree that having an attorney with experience in this specific field would best suit your needs? Call us for a consultation to learn what we can do for your unique case.
Are You Ready to Serve Your Spouse With Divorce Papers?
Any divorce, military or civilian, can be an emotionally challenging event. If you are facing the difficult decision of filing for divorce against your spouse, we are here to help. The skilled divorce attorneys at Montagna Law have handled numerous military divorces – both contested and uncontested – and are very familiar with Virginia family law, along with all the additional federal laws that apply to military divorces.
Our compassionate family law attorneys understand the stress military families go through under ordinary circumstances and how a divorce can further add to them. You've served our country. Now let us serve you. We service the entire Hampton Roads area, including Virginia Beach, Norfolk, Chesapeake, Portsmouth, Suffolk, and Newport News. To set up an appointment, call our law office at (757) 622-8100 or contact us today by filling out our convenient online contact form.
*The consult fee is $50 for up to ½ hr phone consults and $100 for up to 1 hr in-person consults. These consult fees are then applied to the retainer if the client retains us within 30 days of the initial consult.