How We Have Helped Our Clients
Montagna Law has won millions in settlements, judgments, and verdicts for motor vehicle accidents over our more than 50 years of experience representing Virginia accident victims. Just a few of our victories include $750,000 for a car accident case, $995,000 for a truck accident, and $500,000 for a motor vehicle case.
From Norfolk to Virginia Beach, Hampton, and beyond, we are ready to fight for the damages you and your loved ones deserve. We are not just another faceless corporate law firm. We treat every client like family and will fight hard to get you the compensation you deserve when insurance companies try to bully you into scant settlements. Some of our attorneys serving Suffolk are listed among Super Lawyers and Rising Stars.
Call our law office at 757-622-8100 or fill in our contact form online to get a free consultation with one of our Suffolk personal injury lawyers today.
What Are Some Common Causes of Car Accidents in Suffolk, Virginia?
According to the Department of Motor Vehicles in Virginia, the leading cause of car accidents in Suffolk, VA 23434 is speeding, followed closely by distracted driving. Other common causes of car crashes that our personal injury attorneys see include alcohol and drugs, weather conditions, and road hazards. Regardless of the cause, if you are in an accident that was not your fault, contact the VA car accident lawyers at our personal injury law firm for legal advice and legal representation today.
Speeding
In 2020 alone, Virginia saw 22,479 speed-related crashes. These caused 406 fatalities and 11,528 injuries.
Distracted Driving
Distracted driving includes everything from cell phone use to playing with the radio to reading, eating, or looking at the vanity mirror. In 2020, 10,367 people were injured and 121 killed in distracted driving cases in Virginia. 62 fatalities involved the distracted driver also speeding.
Alcohol
The 6,624 alcohol-related crashes in Virginia in 2020 caused 272 fatalities. 3,986 of these resulted in serious injuries.
Weather Conditions
Weather conditions can range from a light rain that creates slick conditions on the road to a torrential downpour that obscures sight. Snow and ice also cause tricky driving conditions. Drivers who do not adjust their driving for these conditions can be at fault if they cause an accident.
Road Hazards
Much like weather conditions, road hazards present a danger that must be adapted to by drivers. They encompass everything from potholes to oil spills to loose gravel and broken pavement. It does not matter whether you are on the highway or downtown on Main Street; drivers who do not adapt and who lose control, causing an accident, may be held accountable.
What Are the Most Common Types of Injuries After a Car Accident in Suffolk?
You were just trying to head down West Washington Street on your way to work when suddenly someone careened into you from behind. The next thing you know, you are in the hospital with potentially life-altering injuries.
Car accidents can result in catastrophic injuries from shattered bones to invisible, internal injuries, to shock and trauma that never goes away, and even loss of limbs. Some of the more common types of personal injury claims we see include traumatic brain injury, broken bones, neck and spinal injuries, and cuts and bruises.
Traumatic Brain Injuries
Traumatic brain injuries can cause lifelong disability. They are often considered invisible injuries and leave you with emotional trauma, cognitive difficulties, loss of limb use, paralysis, and even uncontrollable mood swings that never seem to get better.
Broken Bones
Broken bones sometimes heal within weeks. Other times they can be severe enough that you never completely recover. Shattered bones can even result in limb paralysis that can last for life.
Neck Injury
Neck and spinal injuries can involve soft tissue issues like whiplash, or they can affect the spine and nerves themselves. In cases of serious spinal injury, you may be robbed of your mobility, resulting in paraplegia, quadriplegia, or full-body paralysis. They represent some of the most severe physical injuries a personal injury lawyer can see.
Bruises and Cuts
Some bruises and cuts are superficial, but others can cause serious complications. Bruises on your internal organs can affect their functioning. Cuts to major arteries can be life-threatening, and result in major medical bills.
Is Virginia a No-Fault State for Auto Accidents?
Virginia is a fault-based state for auto accidents. This means that an auto accident in Virginia can be treated much like other forms of personal injury like defective products, medical malpractice, and premises liability where you need to prove negligence to get compensated for the accident.
In Virginia, proving negligence for a car crash means three things. First, we must demonstrate that the other driver violated the basic duty of care that all drivers have to operate their vehicle in a responsible way so as not to put others in danger. Second, we must prove that their irresponsible acts led in some way, directly or proximately, to the accident. Finally, we must make it clear that you were injured as a direct result of the accident.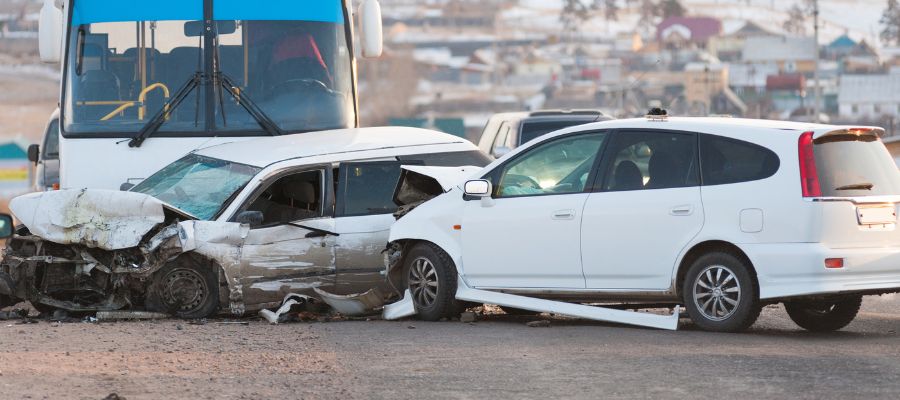 How Does Contributory Negligence Work in Suffolk, Virginia?
Contributory negligence is the reason why it is so important to have an attorney help you to prove negligence in your case. Virginia's laws are extremely harsh where negligence is concerned; it is one of only a very few states left that use pure contributory negligence. This means that if you are found to hold even 1% responsibility for the accident, you can be barred from collecting compensation.
What Is the Benefit of Having a Suffolk Car Accident Lawyer?
Because Virginia uses pure contributory negligence, it is vital to have someone in your corner who can fight back when the insurance adjuster tries to blame you for the accident. It is important that you build an ironclad case to demonstrate that you are the victim and hold no blame at all. Only then will you be able to collect compensation for your lost wages and inability to work, for your loss of comfort and consortium, for your medical expenses, and for funeral and burial expenses in the case of a wrongful death where you lose a loved one.
Beyond that, fighting these battles can be extremely stressful at a time when stress is the last thing you need. The Super Lawyers at Montagna Law will provide all the one-on-one personal attention required to get to know you and your case. We are deeply caring for every one of our clients. We can be a friendly ear as well as a tenacious ally right when you need it.
Your case is personal to us. Even better, you will not owe us a dime in legal fees if we do not win your case. We have proven experience and a track record of success, and we have won big for our clients in our five decades of fighting for the rights of injury victims. We are ready to fight to do the same for you.
Hiring a Suffolk Car Accident Lawyer Means Greater Compensation
Montagna Law is a dedicated personal injury law firm serving Suffolk and all of Virginia, with decades of experience and practice areas covering car, truck, and motorcycle accidents. We have logged thousands of miles visiting clients everywhere in the Hampton Roads, including Portsmouth, Virginia Beach, Newport News, Norfolk, Hampton, Chesapeake, and beyond. Some of our attorneys are even listed as Super Lawyers in Virginia.
If you have been hurt in a motor vehicle accident and suffered serious injuries, contact our law office for a free initial consultation with a VA personal injury lawyer today. Do not try to fight for compensation alone. We have fought for the rights of victims in hundreds of personal injury cases, and we are ready to fight for you. Just call us at 757-622-8100 or fill out our easy online contact form to schedule an appointment.