What Is the Statute of Limitations for a Suffolk, Virginia Truck Accident?
A statute of limitations is a legal time frame during which you have to file a lawsuit. Every state has these rules for just about every civil and criminal case, with few exceptions. For any sort of motor vehicle accident in Virginia, from auto accidents to motorcycle accidents and accidents involving semi-trucks and commercial vehicles, the statute of limitations is two years from the date of the accident. In the case of a wrongful death suit, it becomes two years from the date of death.
What Are Some Common Causes of Truck Accidents in Suffolk, Virginia?
Many factors can play into tractor-trailer and other truck crashes, and they can involve many responsible parties from the truck driver to the trucking company, maintenance crews, and others. These factors can include reckless and distracted driving, road hazards, improper maintenance, poor weather, improper cargo loading, speeding, tired driving, and many others.
Reckless Driving
Say you are driving down College Drive when a tractor-trailer comes barreling along with the trucker behaving in a reckless manner. The next thing you know, your car and life are in shambles. Many truck drivers are simply reckless behind the wheel. Different types of reckless for truck motorists driving include:
Driving hurriedly
Overconfidence in driving abilities
Under the influence of alcohol or illicit substances (DUI/DWI)
Using a cell phone
Eating
Reading
Reckless driving on Suffolk roadways is a leading cause of accidents today.
Road Hazards
Road hazards can involve a great many conditions: Potholes can blow out tires and send trucks into a jackknife or rollover. Rough gravel can cause a trucker to lose control of their vehicle. Oil slicks can result in the loss of traction. The thing about road hazards is that many are avoidable when driving carefully. Truck accident victims may be entitled to significant compensation for their injuries if the accident was caused by a trucker not accounting for road hazards.
Inadequate Maintenance
Trucks are complex pieces of machinery, and if any part fails, it can greatly interrupt the core functions and inherent safety of the vehicle. Brakes can go out, tires can blow, and engines can explode. Any number of unfortunate scenarios could occur, and if they occur because of improper maintenance, those at the trucking company who are responsible for maintaining the truck can be held responsible for a personal injury that results.
Weather Conditions
Weather conditions can create dangers for any driver. Even light rain can make roads slippery. If a truck driver does not pay attention to the conditions and adjust their driving accordingly, accidents with serious injuries can result.
Poor Cargo Loading
Cargo loads in trucks are heavy and awkward and must be carefully balanced and secured. When a maintenance crew fails to properly load, secure, or balance this cargo, it can suddenly shift, which may cause the truck to lose control, jackknife, or roll over, resulting in catastrophic accidents and severe injuries.
Unrealistic Time Constraints
The trucking industry is heavily regulated, down to how long a driver is allowed to drive before mandated rest. Often, however, truckers have unrealistic time constraints and deadlines that compel them to ignore these federal laws.
If a truck driver who is tired or speeding to beat a deadline has an accident, they can be held responsible. In some cases, those who imposed the deadlines may also hold some responsibility. Contact a truck accident lawyer at the Montagna law firm for a free consultation, either through our online contact form or at 757-622-8100 today.
What Types of Injuries Are Most Common With Truck Accidents in Suffolk, Virginia?
Many different types of personal injury can result from truck accidents. From broken bones to loss of limbs and invisible injuries, these can be catastrophic and life-altering.
Fractures
Fractures and broken bones can put you out of commission for some time. In some cases, they can even permanently change your life.
Spine Injuries
Spinal injuries can leave you weaker than you were and less capable of working. They can even result in temporary or permanent paralysis. You deserve to be compensated if this happens.
Traumatic Brain Injuries
Traumatic brain injury, or TBI, is an invisible injury. You cannot see it, but it can result in personality changes, cognitive problems, depression, and even issues with balance and body function. It can cause lifelong disability, and proving it in court can be quite difficult. That is why having help from a personal injury attorney with practice areas in vehicle accidents is so important.
Internal Organ Damage
Internal organ damage is another form of invisible injury. It can leave you with any number of lifelong disabilities like digestive and bowel problems, kidney or liver issues, and cardiovascular complications that will never completely heal.
Wrongful Death
Wrongful death refers to personal injury cases where a loved one dies due to someone's negligence. If this happens to you, you may be able to sue for compensation to cover medical expenses, funeral and burial costs, loss of support, and other noneconomic damages.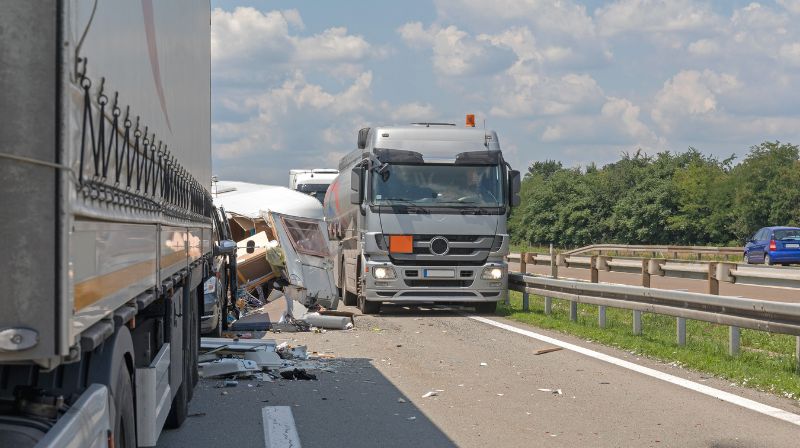 What Factors Impact Truck Accident Cases in Suffolk, Virginia?
Personal injury cases involving big trucks can get very complex. Insurance companies look for reasons to reduce or even deny injury claims outright. Truck accidents almost always involve an increased severity of damage and more serious injuries resulting in higher medical bills and an increased chance of death.
They involve companies that have larger insurance policies, and multiple parties can be held responsible including the manufacturer of failed parts, the trucking company, vendors used by the company, loading and maintenance crews, and even sometimes local government in addition to the driver. It takes a qualified, experienced Suffolk attorney to sort out these details and build a solid case for you.
Negligence is a primary factor in all these cases. In Virginia, we have pure contributory negligence, which means that if you are found to hold even 1% of the responsibility for the accident, you may be barred from collecting any compensation at all. That is another reason it is vital to have an attorney in your corner.
The Different Types of Compensation for Your Damages After a Truck Accident
The two types of compensation for damages after a truck accident are special, or economic, damages; and general, or noneconomic, damages. One is easy to value, while the other can be complicated.
Economic Damages
Economic damages are also sometimes called special damages. They include things like your medical bills, lost wages, potential lost future earnings, and all the physical items that are easy to value.
Noneconomic Damages
Noneconomic damages refer to things that are not as easy to value. They include pain and suffering, loss of consortium, loss of comfort, emotional trauma, PTSD, and loss of your ability to enjoy life. Your Suffolk personal injury lawyer knows how to put a value on these so you get fair compensation.
What Are the Benefits of Hiring a Truck Accident Lawyer in Suffolk, Virginia?
A truck accident lawyer from Montagna Law can take over the stress of fighting with insurance companies so you can focus on getting well. Our legal team will build a well-researched case on your behalf, and we will fight every step of the way for maximum compensation for you.
The biggest benefit of hiring an accident attorney is that it levels the playing field. The various parties on the defense will have powerful insurance companies and lawyers on their side. They will use the law against you. Having your own attorney can prevent them from doing so and allow you to fight back.
It's Time to Hold the Responsible Parties Accountable
At Montagna Law, we have helped Hampton Roads clients just like you from all over Virginia, including Chesapeake, Newport News, Norfolk, Portsmouth, Virginia Beach, and beyond. Our law firm strives to help because we are your allies and neighbors. We go fishing at Lake Cohoon and hiking at Bennett's Creek. We love the paintings at the Chrysler Museum, and we care about our local Suffolk family.
To receive immediate assistance for your truck accident, contact a personal injury lawyer at our firm for legal advice and a free consultation with no disclaimers or obligation. Call us at 757-622-8100 or use our online form to see how we can fight for you.