Why Rely On Montagna Law?
Proven Experience Winning The Maximum Compensation
If you are involved in an auto accident, you may need to seek help from Montagna Law for your personal injuries.  At Montagna Law, we offer our help for individuals with personal injuries in Newport News, Chesapeake, Norfolk and throughout Virginia.
Our auto accident attorneys have decades of experience combating insurance companies, both in and out of court. After you've been injured in an accident, insurance companies will use clever tactics to try and pay you the lowest possible amount of money no matter how severe your injuries or significant your expenses.
Montagna Law knows the intricacies of auto accident law and the tricks insurance companies use. We've successfully fought for thousands of clients and we can fight for you too. Let Montagna Law handle the complex legalities of your case and get you the compensation you deserve.
Our car accident attorneys in Virginia Beach, Newport News, and Norfolk move aggressively to ensure that negligent parties are held financially responsible for your lost quality of life, pain and suffering, physical impairment, lost wages, and future earnings and medical expenses.
Leading Car Accident Lawyers In Norfolk, Virginia Beach, Newport News and all of Hampton Roads, VA
Our legal team, with over 50 years of experience, has the resources and knowledge of a highly successful practice to win your case. With our no-fee guarantee, you can bring your auto accident case to us with confidence knowing that you won't pay us a dime until we win your case and recover the compensation you deserve.
Personalized Attention
Each of our clients receives one-on-one personalized attention as we take the time to get to know you and your situation and offer a fresh and individualized approach. You will have direct contact with and access to the auto accident lawyer working on your case.
Free Consulatation & No Fee for PI, Work Comp, and SSDI Cases Unless We Win
We have a free, no-obligation consultation policy. You don't pay us a dime unless we win your case. We work on a contingency fee basis. Our fees are recovered from the money awarded to you when we win your case. You will not owe us a thing until we have reached a settlement or judgment in your favor.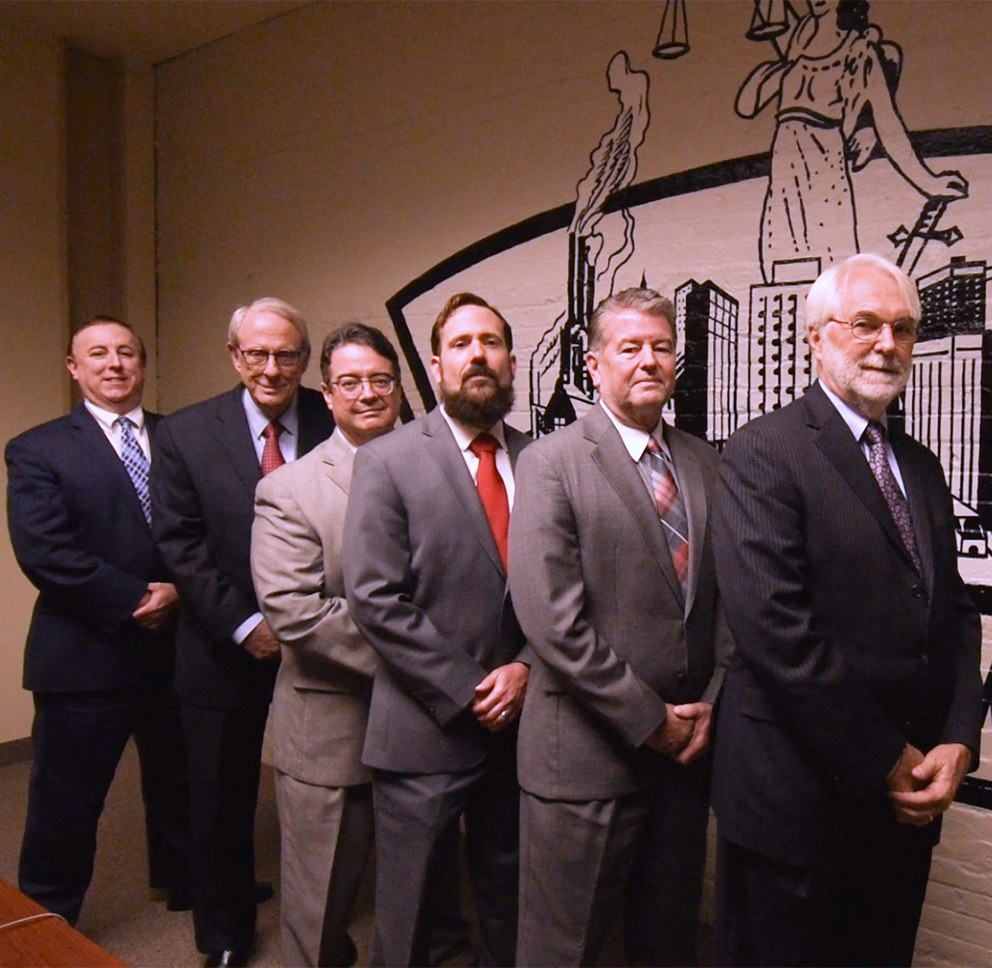 Determined & Caring Attorneys
After a car accident, victims and their families suffer; medical bills stack one on top of the next, time missed from work can put a strain on finances, and you are left wondering how you are going to get your life back on track.
Adjusting to life after a serious injury requires a major lifestyle shift. We understand and will go to bat for you! We win the most, are focused on you, and your case is personal to us.
The law affords victims of personal injuries to seek compensation for their medical expenses, lost wages, and pain and suffering. But suing for an auto accident is an overwhelming process when a victim tries to go it alone.
We understand the traumatic impact a vehicle accident can have and we promise that you won't go it alone. Our vehicle accident lawyers will be with you every step of the way until you get what you deserve. The maximum compensation.
If you have been injured in an accident in Norfolk, Newport News, Hampton or anywhere in Virginia, look no further than Montagna Law. You need a car accident law firm with extensive experience and knowledge of the law who will hold your best interests as the first priority throughout the entire legal process.
Leading Auto Accident Law Firm In Norfolk, Virginia Beach, Newport News and all of Hampton Roads, VA
Our auto accident lawyers in Norfolk, Newport News, Suffolk and all of Hampton Roads, VA are founded upon the mission to help victims of negligence recover the compensation they deserve and restore their quality of life after their accident. If you are looking for an experienced  car accident attorney to help you pursue damages for your injuries, please don't hesitate to contact us.
Give us a call for a free, no-obligation consultation to see how much Montagna Law can win for you.
Types of Car Accident Cases Montagna Law Expertly Handles
For over 50 years, Montagna Law has represented victims of car accidents in Norfolk. Newport News, Virginia Beach and throughout Virginia.
Our auto accident attorneys have successfully handled countless cases stemming from a variety of auto accidents including cars, trucks, and motorcycles.
So many types of cases fall under the personal injury umbrella and you need to work with a law firm that has experience working with them all. Montagna Law has years of experience working on all of these types of personal injury cases.
Here at Montagna Law, we have represented clients in all kinds of personal injury cases over the past years. Clients who come to us can rest assured that our personal injury lawyer offers legal representation in all kinds of car accident cases including
Head-on collisions – Head-on collision accidents involve two vehicles whose front parts collide into one another. Head-on collisions are often fatal, depending on the speed of each of the moving cars. This kind of accident often leads to fatal injuries. We are more than happy to offer our legal services to you in such a car accident case like this.
Read-end accidents – Rear-end accidents often occur when one vehicle rams into another from the rear. In cases like this, the driver in front may have braked a little too suddenly or the driver at the back may have had a problem braking and bringing their car to a halt. Such a car accident like this can cause whiplash, sciatica, and other kinds of injuries. According to current statistics, there are about 1.7 million such accident cases reported annually in the United States.
T-bone Collisions – T-bone collisions are often common at intersections. This occurs when an oncoming vehicle rams into the side of another. This accident may sometimes be due to speeding, wanting to beat the traffic light or failure to yield the right-of-way to another driver. This kind of car accident can lead to fatal injuries. Our personal injury lawyers are familiar with cases like this and will help.
Sideswipe accidents – This occurs when one vehicle brushes another sideways. For this kind of accident, both vehicles have their sides scratching against one another. This is a common kind of accident in instances where drivers fail to maintain their lane on the road.
Chain reaction crashes – These are also known as multiple crashes. This occurs when one car causes others to hit the cars before or after them. Usually caused by a huge force of impact that sends multiple vehicles into one another. Victims may suffer injuries like whiplash, concussion, neck pain, and other severe injuries. Added to this, victims may also suffer property damages.
Single Vehicle accidents – This kind of accident occurs when a single vehicle is involved in an accident, whether because it slid off the road or because it hit a standing object. Such an accident may be caused by excessive speeding, loss of vehicle control, problems with the braking system, and more. Our personal injury attorney is ready to work with you to ensure that you get the right help.
Hit-and-runs
Head-on collisions
Drunk driving accidents
Distracted driving accidents
Failure to yield
Rollover accidents
Rear-end collisions
Left-turn accidents
Parking lot accidents
Highway accidents
Icy road accidents
Lyft/Uber/Rideshare accidents
School bus accidents
Our car accident attorneys in Hampton Roads apply our same compassionate approach and extensive legal knowledge to each and every case we handle. This approach guarantees that our client gets the maximum chances of obtaining a settlement or verdict to recover financially and physically after their major auto accident.
FAQ
---
What Should I Do if I've Been in a Car Accident?
The time following a car accident is crucial and that can make it an incredibly stressful time period.
Filing a lawsuit with an auto accident lawyer guiding you through it may be the last thing on your mind but it is important to take certain steps in the aftermath of your accident as they can affect any legal claims you decide to file later.
Get a medical evaluation: Your health and wellbeing should be your number one priority following your accident. If you are not transported to a hospital from the scene of the crash, make sure that you see a doctor yourself. The doctor will identify, diagnose, and treat any injuries you've sustained which will significantly reduce the likelihood of suffering from complications in the future. Your medical evaluation will be an imperative piece of evidence when you later file an auto accident claim.
Report the crash: Report the crash immediately. An officer will arrive to survey the scene and document the incident. The officer's report will contain important details relevant to the accident that could get lost over time including current weather conditions, eyewitness testimony and information, and traffic conditions.
Gather evidence: Start by taking photos of the scene of the accident, the damage done to any involved vehicles, and your injuries. We also recommend writing down your recollection of the event as this can help to refresh your memory later down the line.
Refuse preliminary settlement offers: Recovering compensation after a car accident in Hampton Roads is not easy. To ensure that you are properly compensated for your injuries, do not speak to insurance companies until you've consulted with an auto accident attorney.
Contact an attorney: Hiring a car accident attorney is the best way for you to maximize the amount of compensation you receive for your injuries and damages. Call Montagna Law today to schedule a free consultation with our expert legal team.
Is It Worth It to Hire a Car Accident Attorney?
It is beneficial in almost every situation to hire a car accident lawyer in Hampton Roads after an auto accident.
Without the expertise of our skilled and experienced legal representatives, you could end up leaving a significant amount of damage awards on the table simply due to being unaware of the opportunities available.
Among the countless benefits of hiring one of our Hampton Roads auto accident lawyers to handle your claim are the following:
Understanding all of your legal options
An increased chance of recovering substantial compensation
Help in negotiating with the insurance company
Identifying additional damages you may be able to recover
Avoiding the statute of limitations or other deadlines that can potential expire
Our auto accident lawyers will gather evidence to put together the most robust and compelling claim on your behalf and help you recover the largest settlement possible.
What Is the Average Settlement for a Car Accident?
Settlements for car accidents can range wildly in value and it is nearly impossible to estimate an average with so many factors at play.
The amount you will receive for your car accident in Hampton Roads depends on a number of variables including:
The amount of damage to the vehicle
The severity of your injuries
The circumstances surrounding the accident
The at-fault party in the accident
Any economic damages due to loss time from work or inability to return to work
At the law offices of Montagna Law, we have settled auto accident claims up to millions of dollars. We fight to help you recover the largest settlement possible. We are so confident in our ability to get you money that we collect an attorney's fee only after our clients get paid. Schedule a free consultation with one of our auto accident lawyers in the Hampton Roads to learn more about how we handle the payment for our services.
Should I Hire a Car Accident Lawyer Even for a Minor Accident?
Minor accidents can often still cause serious injuries. Plus, injuries often do not surface immediately. Some of the most serious and long-lasting injuries often do not surface until days or weeks after the accident.
It is imperative to your long-term health and wellbeing that you contact an attorney who can help you to coordinate medical treatment that can alleviate any long-term consequences.
The auto accident attorneys of Montagna Law will file your claim and ensure that your rights remain protected throughout the entire claim process. We will work on your behalf to collect evidence to prove your accident-related damages, including costs of medical bills and lost wages. We will pursue the other driver's insurance, seeing to it that you are fairly compensated for your injuries no matter how severe or minor.
How Long Does It Take to Settle a Car Accident Claim?
Because every case is so different, there are no stats on the average amount of time it takes to settle a car accident claim in Virginia.
There are several factors that go into determining how long a car accident takes to settle:
The severity of the resulting injuries
The length of medical treatment required for the victim
Whether or not an agreement is reached as to who is at-fault for the accident
How quickly the insurance adjusters provide a fair settlement offer
If the insurance company fails to offer a fair settlement in their allotted time, you can file a lawsuit. The earlier you involve us in your case, the better. We'll hit the ground running collecting evidence to prove negligence and determine the at-fault driver. While for many cases, this requires just a police report and eyewitness testimony, some cases are much more complicated and require the testimonies of other specialists to prove negligence.
We recommend that you jump into action as soon as your injuries allow you to. Contact us to set up a free consultation where we will take a look at your case and offer our analysis. We will also ensure that you do not miss any deadlines that could render your case ineligible for review.
Hiring an experienced car accident attorney is the best thing you can do after you've been involved in a car accident. Here are three ways our attorneys work to help you get the money you deserve.
We Identify the At-Fault Party
It is imperative to determine the precise causes and the at-fault party of your car accident. Identifying the parties who had a role in your auto accident will help to maximize your financial recovery.
We Level the Playing Field
When you've been injured in a car accident, you will most likely be dealing with the at-fault party's insurance company. Your health and wellbeing are not at the top of the insurance company's mind; these companies are looking to minimize the amount of money you get.
An auto accident attorney should be hired to present you and protect you from the insurance companies' unfair tactics. Our attorneys level the playing field and ensure that they make an offer that sufficiently covers your accident-related costs.
We Ensure Your Case Is Properly Valued
When victims of car accidents attempt to handle their case on their own, an insurance company will typically assess the value of their case. Since they want to keep your payout as low as possible, we assure you that they will undervalue your injuries and will likely not factor in reduced earning capacity or emotional distress.
At Montagna Law, we work with experts to ensure that all of your damages are identified and set at a proper value. During this process, we don't look only at the costs you have today, but we also determine how your injuries may affect your financial future. Our valuation is backed up with hard evidence and reliable testimonies, making it tough for the insurance companies to offer any less.
How Can I Contact the Law Firm of Montagna Law?
At Montagna Law, we represent car accident victims and their families in Hampton Roads. We will fight for the full value of your claim and help you to recover compensation for your claim.
Call us today at (877) 622-8100 to schedule a free consultation where you can learn more about auto accident laws, the benefits of hiring one of our car accident lawyers in Hampton Roads, and how we plan to attack your case. You do not have to fight this battle alone.