In a split second, a car accident can forever change life as you know it. Unfortunately, every year many families will suffer permanent consequences due to decisions made by a driver. Did you know that in 2022, nearly 20% of injured car accident victims in Virginia were passengers? Tragically, many of these victims, including children, suffered serious injuries and wrongful deaths.
As a passenger, you have very little control over whether a car accident happens or how severe it is, but you do have options to pursue compensation to help pay for your injuries, including medical expenses, lost wages, and other damages you sustained in the crash. Whether the driver of the vehicle or another party is at fault, as a passenger, you have rights.
Montagna Law has been advocating for accident victims in the Hampton Roads area for decades. Learn more about your rights as a passenger in a car accident and how a Virginia car accident lawyer can help you take back control after your accident. To find out the ways we can support you, call Montagna Law for a free consultation. Our phone number is 877-622-8100.
Common Injuries for Car Accident Passengers
Injuries sustained in a car crash can be serious and can often result in lifelong disability and/or pain. Even minor accidents where you were a passenger can result in long-lasting suffering. While not a comprehensive list of all the countless injuries an auto accident passenger victim suffers, the following are some of the most common.
Neck and back injuries
Spinal cord injuries
Traumatic brain injury, including concussions
Whiplash
Broken bones
Soft tissue injuries
Internal bleeding
Facial injuries
Disfiguration
Burn injuries
PTSD
Arm and wrist injuries
While some passenger injuries show immediate signs of a problem, there are many types of injuries that take time to show symptoms. It is vital to get yourself checked out as soon as possible after an accident to ensure you did not sustain any hidden injuries.
What to Do If You Were the Passenger in a Car Accident in Virginia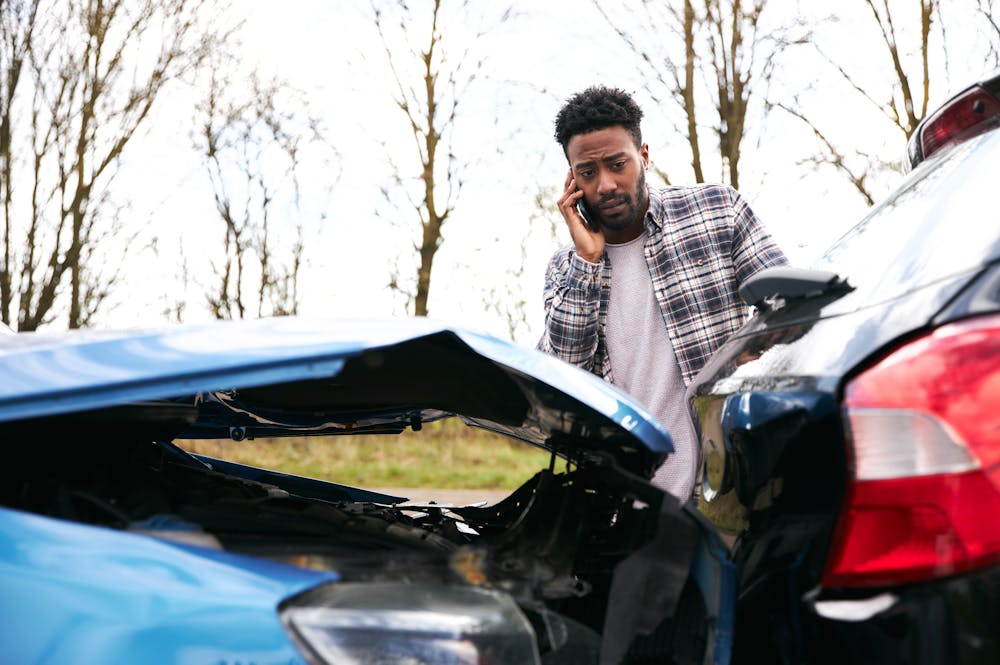 The aftermath of a crash can be wrought with confusion, fear, panic, and worry. The best thing you can do is to take a deep breath and try to be proactive about the situation. By knowing ahead of time what you should do in the event an accident occurs, you can prepare and equip yourself to better handle a situation. As a passenger in a collision, here are things you can do.
Calm the driver. Chances are high your driver may be stressed out, and you can help by calming them down to help work through the next important steps.
Call 911 for injuries. If it appears anyone is suffering injuries, call 911 to get emergency responders on the scene.
Take note of the other driver. As soon as you can, note down the make, model, and license plate of the other car in the event they decide to flee the scene of the accident.
Help the driver collect witness contact information. The driver will likely be struggling with the situation, and you can help by collecting contact information from passersby and other witnesses.
Collect physical evidence. Take photos and video of the crash scene, including vehicles, any injuries, signage, skid marks, road conditions, and other relevant details.
Seek medical treatment. Even if you feel fine, get an evaluation done by a medical provider as soon as possible and encourage anyone else in the car to do the same. You have accident injuries needing medical care and you may not realize it, so always get yourself evaluated.
Report the accident. Report the accident to either your insurance company or the driver's auto insurance company, depending upon the situation leading to the crash.
As soon as you can, call an experienced Virginia personal injury attorney. Your lawyer can sort out the complexities associated with insurance claims. If you need to file a personal injury claim with your own insurance company, a driver's insurance coverage, or through a personal injury lawsuit, your attorney can assess the circumstances surrounding the motor vehicle accident, gather evidence, and prepare a case.
Can You Leave the Scene of the Accident if You Were a Passenger?
In the event of an accident, it is not as imperative the passenger stay as much as the driver should stay. However, our law firm would always encourage passengers to stay. Passengers are victims too and being present allows them to give their firsthand account of the accident by describing to the responding police officer how it happened.
When you share your version of the incident, this ensures a better police report will be generated that includes the details you witnessed or remember that others might not. Also, it presents the chance for you to report your injury to the police officer who will then make note in the report. Additionally, as a passenger, you have a duty to report the accident if your driver fled the scene. If you do not, you can be convicted of a hit-and-run.
I Was a Passenger in a Car Accident in Virginia. Who Pays For My Medical Bills?
Passengers often find it easier to obtain compensation for any injuries they sustained because their fault in a crash is typically not in question. Virginia is an at-fault state which means the person who caused an injury is to blame and is responsible for paying for damages. This is usually a driver.
If insurance does not cover the extent of your injuries, damages, and losses, you may also be able to pursue other avenues of compensation to help make medical payments. Working with a Virginia law firm that is experienced in car accident cases is ideal to help you determine how to pursue compensation for any current and future medical attention you will need.
Can I File a Claim Against the Other Driver?
If the other motorist is the at-fault driver, you can file a claim under their insurance coverage for passenger injury. It is important to understand the other driver must be designated as the party responsible for causing the accident. If not, you may need to demonstrate fault by providing evidence to support this claim.
Can I File a Claim Against My Driver?
In a situation where your driver was to blame for the accident, you can file a claim against your driver's insurance policy or theirs. Your driver is responsible for your safety, and if they did something that caused a crash, they are responsible for paying for your injuries through their insurance company.
Unfortunately, this is often tricky. It is best to consider your relationship with the driver and how it might impact your relationship. The best way to work around this is to have an honest talk about filing against their car insurance.
What if Both Drivers are At Fault?
In the event it is ascertained both drivers shared responsibility for the accident and fault assigned to each, you may be eligible to file a claim with both drivers' insurance companies.
What Damages Can a Passenger Claim After a Car Accident in Virginia?
The Commonwealth of Virginia allows personal injury victims to pursue compensation for both economic and non-economic damages. The following provides a general idea of the types of losses accident victims typically suffer.
Economic Damages
Damages under this umbrella are essentially all the bills you may have accumulated or will accumulate due to the accident. Common types of economic damages include:
Current and future medical costs
Current and future lost wages
Medications
Transportation to medical appointments
Vocational training
Other calculable expenses and losses
Non-Economic Damages
Damages under the category of non-economic are losses you have suffered but do not have a dollar amount that is easily calculable. Examples include the following:
Pain and suffering
Disfiguration
Amputation
Emotional anguish
If you have an injury that causes loss of enjoyment of life, this also can be considered.
These expenses and losses listed for both economic and non-economic damages are not a comprehensive list of the types of items that may be eligible for compensation. Speak to a Virginia car accident attorney about any costs you have incurred so they can ascertain how you can be reimbursed.
Can a Passenger Be At Fault For a Car Accident in Virginia?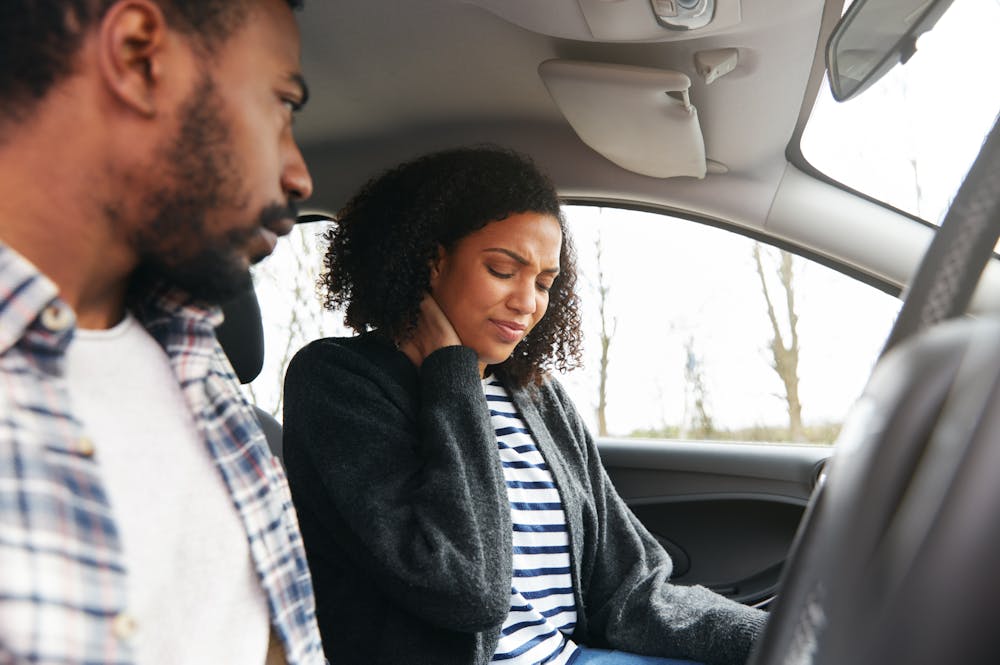 Yes, in some instances, a passenger can be at fault, but this is rare. The passenger is the only person who cannot be found contributorily negligent in most cases since they are not driving the vehicle. There are some rare cases where they might be at fault if they are encouraging the driver to engage in dangerous behavior or if they do not tell the driver to stop driving dangerously.
It is important to remember Virginia's at-fault accident laws are very strict. If you, as a passenger, are assigned even 1% of the blame for the accident, you cannot pursue compensation since Virginia fault law bars recovery.
How Can a Virginia Car Accident Lawyer Help?
While you can file an accident claim on your own, research shows that hiring experienced legal representation often secures greater compensation for car accident victims. The claims process can quickly become complex, and your lawyer will provide many benefits, including:
Informing you of your legal rights and your ability to open a claim or personal injury lawsuit
Assessing damages and determining a fair amount of compensation for your case
Knowing how to handle insurance companies that will try to avoid paying compensation
Negotiating adequate and fair compensation on your behalf
Dealing with situations involving uninsured drivers
In the event you need to file a personal injury lawsuit against an at-fault party that may not have been a driver, your law firm can also provide this service. For example, a car may have contained a vehicle defect that led to the crash that caused your injury. The Virginia car accident attorneys at Montagna Law understand the unique challenges passenger injury victims face and will work diligently to file the proper personal injury cases so you can receive compensation.
We'll Take the Wheel
If you or a loved one are an injured passenger in a motor vehicle, the attorneys at Montagna Law want to help you and your family. Our attorneys will advocate in the best interest of you and your family members.
The caring and compassionate Virginia personal injury lawyers at Montagna Law understand how trauma can persist after a car accident. We also know it is hard not to worry about financial responsibilities, even while suffering from physical pain and mental anguish. While no amount of money can make up for pain and suffering, compensation can ease some of your burdens.
With the Montagna Law attorneys at your side, you can rest assured we will fight our hardest to get you the compensation you need to pay medical bills and cover other damages you have suffered. To obtain a free case evaluation, call our law firm at 877-622-8100 or fill out our online contact form. We proudly serve the entire Hampton Roads area, including Virginia Beach, Norfolk, Chesapeake, Portsmouth, and Suffolk.