Recent Car Accident Lawsuit Verdicts & Settlements
At Montagna Law, we do not back down. We will fight until we recover every amount of compensation you are entitled to receive. Examples of recovery we have obtained for our clients after suffering a motor vehicle collision include:
$995,000, truck accident
$750,000, car accident
$500,000, car accident
For over 50 years, we have represented tens of thousands of plaintiffs who filed personal injury cases in the practice areas we serve, which also include motorcycle accidents, recovering millions and millions of dollars for them.
The Realities of Accidents in Portsmouth
Why do so many Portsmouth motorists and passengers depend on auto accident injury attorneys? Data from Old Dominion University suggests traffic may be a factor. With less than one-third of people who worked in Portsmouth also residing in the region in 2015, commuting and accident advisories are facts of life.
Your collision might be more than a mere tap or fender bender. With Portsmouth's high-speed local travel, massive commercial vehicles, confusing construction patterns, and seasonal weather, the dangers of experiencing an auto accident are extremely real. Depending on the severity of your injuries, you might have trouble working, caring for your loved ones, or simply handling day-to-day affairs.
What Should You Do After an Accident in Portsmouth?
The time following a car accident is crucial, making it an incredibly stressful time period. Calling an auto accident lawyer to file a lawsuit may be the last thing on your mind, but it is important to take certain steps in the aftermath of your accident as they can affect any legal claims you decide to file later.
Get a Medical Evaluation
Your health and well-being should be your number one priority following an accident. If you are not transported to a hospital from the scene of the crash, make sure you see a doctor yourself. A provider will identify, diagnose, and treat any injuries you have sustained which significantly reduces the likelihood of suffering from complications in the future.
Your medical evaluation will be an imperative piece of evidence when you later file an auto accident claim. Keep in mind that even minor accidents can still cause serious injuries that are not immediately detectable. Some of the most serious injuries, such as traumatic brain injury, often do not surface until days, weeks, or even months after the accident.
Report the Crash
Report the crash immediately to ensure an officer arrives to survey the scene and document the incident. The officer's report contains important details relevant to the accident that could get lost over time, including current weather conditions, eyewitness testimony and information, and traffic conditions.
Gather Evidence
Start by taking photos and videos of the accident scene, damage is done to any involved vehicles, and your injuries. We also recommend writing down your recollection of the event as this often helps to refresh your memory later down the line.
Do Not Admit Fault
You should speak to the police and exchange insurance information with other drivers, but you should not admit fault without talking to a legal professional. You also need to report the incident to your insurance provider quickly, but avoid going into detail before seeking legal counsel.
Even if you think you caused the accident, do not admit fault until after contacting an attorney. The reason is that there may be other factors involved equating to negligence that caused the crash unbeknownst to you. An example would be a drunk driver barreling down Route 17 who did not see you as you were carefully pulling out of a grocery store parking lot.
Refuse Preliminary Settlement Offers
Recovering compensation after a car accident is not easy, and insurance adjusters do not typically make decisions with your best interests at heart, instead making lowball offers. To get properly compensated for your injuries, do not speak to insurance companies until after consulting with an auto accident attorney serving Portsmouth accident victims.
No matter how much evidence you think you have, never assume that a court or insurer will agree with your version of events. A personal injury lawyer will examine and help build your case while finding the best way to maximize the amount of compensation received for your injuries and damages.
What Are Some Common Types of Car Accident Cases Montagna Law Handles?
For more than five decades, Montagna Law has represented car accident victims in the Hampton Roads area, including Norfolk, Virginia Beach, Newport News, and Chesapeake. We handle all types of car accidents and personal injury cases. Car accidents in Portsmouth are numerous and can include, but are not limited, to the following.
Head-On Collisions
Head-on collisions can be particularly serious since they involve two motor vehicles whose front ends collide with one another. Sadly, fatalities are common due to the sheer force of both vehicles, especially if high speed was involved, such as often seen on I-264.
Read-End Accidents
Rear-end accidents often lead to serious injury because of the way one car slams into the one in front of it. Mild rear-end accidents lead to whiplash and other injuries, but rear-end crashes involving high speeds can be even more serious, causing injury to the back, neck, spine, head, and spinal cord.
Chain Reaction Crashes
Chain reaction accidents involve multiple vehicles. How they typically occur is one car hits another, and each subsequent car hits the vehicle in front or behind them. Often, a huge force of impact is involved, which can lead to multiple injuries such as concussions, traumatic brain injuries, whiplash, neck pain, and other severe injuries.
T-Bone Collisions
T-bone collisions commonly occur at intersections when an oncoming vehicle rams into the side of another. These accidents may sometimes be caused by speeding, wanting to beat the traffic light, or failure to yield the right-of-way to another driver. Sadly, fatalities are often common in T-bone collisions.
Single Vehicle Accidents
Sometimes a car is involved in an accident by itself. It may or may not mean the driver was at fault. For unavoidable accidents, debris could be on the road, roadway surfaces not cleared in a snow storm, or one car speeds and forces a car off the road lest it hit them. Driver fault actions include DUI, excessive speeding, or other motor vehicle moving violations.
Sideswipe Accidents
Sideswipes occur when one vehicle brushes another along its side. For this kind of accident, both vehicles have their sides scratching against one another. They commonly occur when drivers fail to stay in their designated lanes on busy Portsmouth roads.
What Are Some Common Causes of Car Accidents in Portsmouth?
Sadly, many of the common causes of car accidents in Portsmouth are entirely preventable.
Human Error
Human behavior accounts for many car accidents in the Hampton Roads area. Top driver errors include recklessness, speeding, drunk driving, and distracted driving.
Inclement Weather
Once mid-January rolls around in southeast Virginia, temperatures can plummet, and ice or snowstorms could occur. With freezing temperatures, any wet roadway can be extremely hazardous. In the warmer months, heavy rains and winds prevail, wreaking havoc on Portsmouth's roads.
Inexperienced Driver
Inexperienced drivers who do not thoroughly understand the rules of the road, disobey the rules, or simply have not yet gained the experience in knowing how to react quickly to certain traffic situations often cause crashes.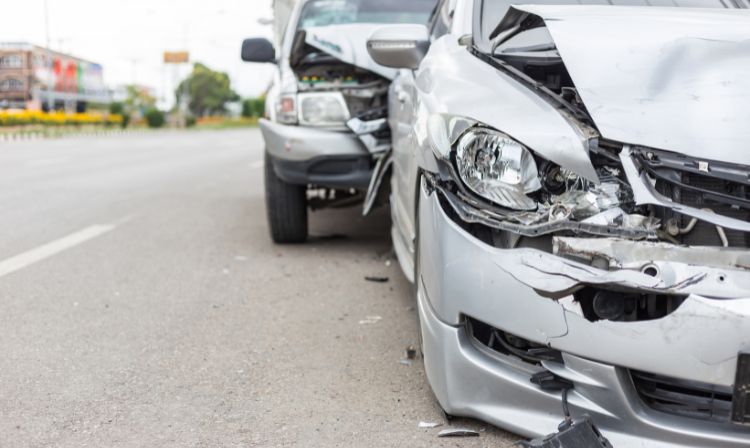 Is Virginia a No-Fault State for Accidents?
Virginia is an at-fault state for car accidents. This also applies to Portsmouth. What this means is the driver that caused the car crash is also responsible (through their insurance policy) for paying for any injuries or damages. However, negligence must be proven, and a police report is often not strong enough documentation. This is one of the reasons why it is so important to speak with an experienced auto accident lawyer before talking in-depth to your or the other driver's insurance company.
How Long After a Car Accident Can You Sue in Portsmouth?
After suffering a car accident in Portsmouth, under VA Code §8.01-243 you have two years from the date of your accident to file a claim; for wrongful death claims, the two-year restriction starts on the day the victim died. Two years sounds like a lot of time, but it really is not when it comes to putting together a legal case. As time passes, eyewitnesses may be untraceable, and details are forgotten, making it harder to pull together evidence.
How Long Will My Portsmouth Car Accident Case Take?
It is hard to give a firm answer on how long a car accident case takes to conclude. Many factors go into determining the length of time a case lasts, including case circumstances, the severity of injuries, length of medical treatment needed, insurance company offers, and whether the case goes to trial or settles before trial.
How Does Contributory Negligence Work in Portsmouth?
Virginia has a harsh rule known as pure contributory negligence when it comes to car crashes. For instance, if an injured person is found to have contributed to the accident in any way, they do not have a case. The other driver must be proven 100% at fault for victims to collect compensation. This rule is a very good reason to call an attorney well-versed in personal injury law as soon as possible to get sound legal advice.
Should I Hire a Lawyer After a Car Accident in Portsmouth?
Our auto accident attorneys have decades of experience combating insurance companies, both in and out of court. After you have been injured in an accident, insurance companies will use clever tactics to try and pay you the lowest possible amount, no matter how severe your injuries or significant your expenses.
Montagna Law knows the intricacies of auto accident law and the tricks insurance companies use. We have successfully fought for thousands of clients, and we can fight for you too. Let us handle the complex legalities of your case and get you the compensation you deserve.
Our car accident attorneys in Portsmouth move aggressively to ensure that negligent parties are held financially responsible for your lost quality of life, pain and suffering, physical impairment, lost wages, and future earnings and medical expenses.
Don't Settle for Less
Montagna Law is a leading Virginia car accident law firm serving Portsmouth, Virginia, and we have an extensive history of helping our clients recover the maximum compensation for their auto accidents and other personal injury claims.
As we practice law, we believe victims and the accused deserve equal access to legal representation, and we never stop working to improve our skills and knowledge to empower you. If you have recently been in an accident, let our personal injury attorneys help you get the compensation you deserve while you focus on recovering.
Montagna Law has won millions for our clients. Let us do the same for you. With combined decades of service and deep roots in the Hampton Roads community, we are proud to change the way you deal with auto accident injuries. Contact our law office today for a free case evaluation at (757) 622-8100 or fill out our convenient online contact form.